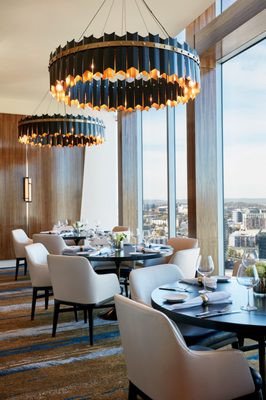 Bourbon Steak by Michael Mina
Bourbon Steak by Michael Mina - Great Food & Drink
Rated the #1 restaurant and steakhouse on TripAdvisor. Voted 'Best Steakhouse' and 'Best Restaurant with a View' 3 years in a row in a Nashville Scene poll. Wine Spectator 'Award of Excellence' winner 3 years in a row.
High up on the 34th floor of JW Marriott Nashville, Bourbon Steak by Michelin-starred chef Michael Mina offers 360-degree panoramic views of the Nashville skyline and deeply satisfying dishes complemented by an extensive wine program.
We take pride in offering organic grass-fed and hormone-free beef hand-selected by our auctioneer who personally inspects each cut to ensure its exemplary quality.
Curious about the restaurant's interior? Think modern-day James Bond. The vibe is energetic and sophisticated. Shorts and baseball hats are *not* recommended. Please dress to impress. Health Score,Takes Reservations,Staff wears masks,Keto Options,Vegan Options,Many Vegetarian Options,Accepts Credit Cards,Outdoor Seating,Intimate, Trendy, Upscale, Classy,Moderate Noise,Dressy,Good for Groups,Good for Dinner, Dessert,Valet Parking,Waiter Service,Free Wi-Fi,Full Bar,Wheelchair Accessible,Covered outdoor seating,Private dining
Contact Information
201 8th Ave S Nashville, TN 37203