If you travel regularly, you will know that there's an app for most of your traveling queries and problems. From travel bookings to accommodations, food, and transport, there's an app that solves all your traveling problems with a click. With summer approaching, you might be planning a vacation with your family or friends. This article will help you plan and execute your travelling dreams with ease and ensure that you spend your time on holiday without worrying. 
Read on for the best travel app recommendations starting with the first and most important question: Where to travel?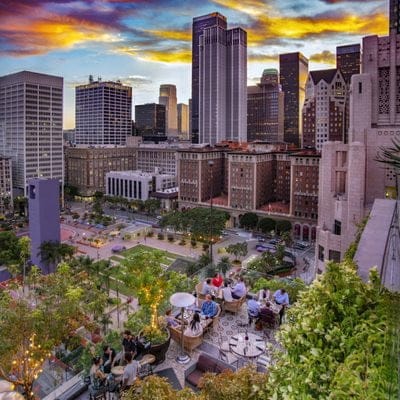 1. Wanderlog For Planning Your Trip
Wanderlog is a great app that helps you research travel destinations, recommend the best travel plans, make reservations, provides a list of to-do's at specific locations, and the best times of the year to visit your preferred travel destinations. 
Wanderlog can export your travel plans to Google Maps and lets you calculate your total travelling time for road trips. You can add your stops and the places you want to visit en route and make notes for reminders on the app, which will be available offline. 
The app also lets you collaborate with friends to plan your trip together. You can come up with your own customized itineraries or even log your entire journey into your very own travel guide.
Making online transactions is a vital part of planning trips online. Make sure you have a reliable internet connection with a fast speed that is also budget-friendly. We recommend AT&T for that. AT&T Internet prices start from $55 making it one of the fastest yet most economical options.
2. Kiwi For Flight Bookings
Kiwi is a great app to book flight tickets. The app helps you look for the cheapest flights at discounted prices. Kiwi has a partnership with Booking.com as well as RentalCars.com to help you book hotels and car rentals in the same app. 
You can compare prices, get to know about hidden fares, and save money with the app's travel hacks. 
3. Hotel Tonight: To Book Hotels
Some people just like to plan things on impulse. This hotel booking app is for impulse travellers who need a hotel booking the night before or on the same day. Hotel Tonight connects you to multiple hotels with available rooms that you can choose from. 
The app works in thousands of cities globally and provides categorized rooms such as: basic, luxury, solid, hip, and charming. You can choose a room based on your mood and budget.
Hotel Tonight offers great deals daily that are valid for up to 15 minutes only. You can avail the daily discounted offer and save money. The app is now owned by Airbnb. 
4. Airbnb for Home Rentals
Airbnb is the best app to rent a home, apartment, or suite if you're not looking for hotel services. This can be a great option for people travelling with families or who intend on staying longer as you can find cheaper options. 
Airbnb has multiple filters that let you search for just the right home for you. You can choose your price range, type of home, pet-friendly homes, etc. The app is very simple and easy to use, you can manage your trips, contact your host, book in advance or change your reservations. 
5. Triplt To Manage Your Travel Bookings
Managing a trip can be very messy. There are bookings for so many things including travel, air tickets, hotel rooms, and tourist attractions, sooner or later you'll be frustrated by the influx of apps you have to keep a track of. To solve this issue, Triplt allows you to manage all your bookings in one app. You can sync your reservations to Triplt and only have to look for all your reservations in one place. 
A great feature of the app is that you can share your plan with your family, friends, or tour guides who can pick you up and help you follow the itinerary as planned by you. 
6. Pack Your Bags with PackPoint
Packing your bags can be a tedious job. What to take for Instagram-worthy photos and what to take for behind-the-scenes survival. Well, this app is made just to help you navigate through that. You can add your destination and the activities you're planning on doing to PackPoint and it will provide you with a list of things you will need. 
PackPoint also helps you locate if there will be laundry options around you so you can carry enough clothes. With a detailed list provided, all you need to do now is start packing!
Conclusion
Travelling becomes a lot more fun when you're sorted for your stay, and have your transport and the places you want to visit all looked after. These apps make sure you have complete control over your planning, and you don't have to fret at the last minute. We hope you have a great vacation!
---
Pizza Stone Dough Roller Slicer Sauce
We exclusively bring you lists of some gadgets related to food, drinks, beverages for your home, kitchen, picnic, parties and more. Below are highly reviewed Pizza Stone Dough Roller Slicer Sauce on sale from Amazon store. ENJOY 🙂

Pastorelli Pizza Sauce, Original Authentic Italian Pizza Sauce with Extra Virgin Olive Oil and Pecorino Romano Cheese Shredded, Since 1952 Family Pizza Sauce Recipe, 8 Ounce, Pack of 12
AWARD-WINNING PIZZA SAUCE – Enjoy the unbeatable taste of the award-winning Pastorelli Pizza Sauce, awarded 5 grand gold medals in its own category by "being In a Class by itself".
AUTHENTIC ITALIAN RECIPE – An incredibly authentic Italian pizza sauce recipe, Pastorelli's famous Italian Chef Pizza Sauce has been a family recipe and a best-seller since 1952.
JUICY, ZESTY FLAVOR – Made with fresh San Marzano-style tomatoes, plucked off the vine at their juicy, ripened peak for a fresh pizza sauce taste, our premium pizza sauce has a homemade zesty flavor.
WITH CHEESE AND OLIVE OIL – Enhanced by imported Pecorino Romano cheese and extra-virgin olive oil, our pizza sauce with cheese is versatile to be used also as a pizza pasta sauce.
A FAMILY RECIPE SINCE 1952 – This 8 oz pizza sauce can will make one 16″ inch pizza or two 12″ pizzas. Non-GMO | No Added Sugars | Gluten Free | BPA Free | Preservative Free.
Sale
Kitchy Pizza Cutter Wheel with Protective Blade Cover, Ergonomic Pizza Slicer (Green)
NO EFFORT PIZZA CUTTER – Stable vertical pressure and large cutting wheel for easy and perfectly controlled cutting process.
GET THE PERFECT SLICE IN ONE CUT – This pizza cutter will leave you shocked with how easy it is to get a nice, clean cut through your pizza.
COMFORTABLY FITS IN THE PALM OF YOUR HAND - This pizza slicer's unique design easily fits in your hand and also in your cutlery drawer.
PROTECTIVE BLADE GUARD FOR EASY STORAGE – This pizza cutter wheel comes with a blade guard to keep your cutter securely stored away when you're not using it.
DISASSEMBLES FOR THOROUGH CLEANING AND DISHWASHER SAFE – Take it apart in 3 simple steps and put it in the dishwasher for thorough cleaning.
Weisenberger Pizza Crust Mix - Pizza Dough Mix for Homemade Pizza - Pizza Flour Mix for Pizza Crust Dough In Minutes - Premade Pizza Dough Fresh Ingredients, No Preservatives - 6.5 oz, 12 Pack
EXCELLENT TEXTURE AND FLAVOR: Perfect for New York Style pizza or rolled thin and crispy, Weisenberger's creates a deliciously chewy dough with enough strength to hold your favorite toppings.
HIGH QUALITY INGREDIENTS: Weisenberger mills the flour used to make the pizza crust mix on site, as it has since 1865, to create a high quality and delicious pizza flour.
SIMPLE TO MAKE: With two types of flour, salt, and yeast combined in perfect proportions, Weisenberger Pizza Mix is easy to use: just add ½ cup hot water, let rise, and bake.
CONVENIENT SIZE: One 6.5 oz package makes a mouth-watering 12 inch pizza, or a 14 inch thin crust perfect for homemade pizza night! This listing is for a 12 pack.
MAKE MORE THAN PIZZA: Weisenberger Pizza Crust mix is versatile enough for more than pizza. Create delicious breadsticks, calzones, cinnamon rolls, flatbread, and more!
Norpro Wood Pastry/Pizza Roller 4in/10cm
Measures: 7.25" x 4.5" x 1.25" / 18.5cm x 11.5cm x 3cm. Large roller: 4.125" / 10.5cm. Small roller: 2.5" / 6cm
To help achieve a perfectly cooked crust, it needs to be of a uniform thickness. The Norpro Pastry/Pizza Roller is the perfect 2-in-1 tool for pies, cookies and pizza dough!
The large roller smoothly rolls out dough, creating a uniform crust. Easy to use on your pastry mat/cutting board or directly in the pan!
The small roller makes it easy to fill in dough to the edges, smooths edges and sides, and ensures uniform depth around the inner rim of the pan.
Also ideal to crush nuts, crackers, cookies and bread crumbs!
Sale
Meta-U Time-Saver Pizza Dough Roller Docker - Dough Blistering Killer - Buy One Get Three (Pizza Cutter and Pastry Scraper) - Gift Package
BEAT THE HELL OUT OF FORK – So much easier, faster and more fun than using a fork. Also not deep like a fork. Docking is the process of creating small vents in dough to prevent it from blistering and rising in large, uneven pockets during baking. The docker does take the guess work out of docking, however, since you don't need to wonder whether you've added enough holes to your dough or whether it is evenly marked.
TIME-SAVER AND LAST FOR YEARS – A dough docker is one of the stranger looking tools that you might find in your kitchen. Dough dockers are used to knock air out of your dough once it has been rolled. The dough docker will create numerous puncture holes in the dough to ensure there are no air gaps in your pizza base once it is cooked. Taking the 10 seconds to dock your dough prior to baking could save you several minutes later when it comes to popping bubbles throughout the baking process.
NOT ONLY FOR RESTAURANT BUT ALSO FOR HOMEMADE – Generally this commercial pizza dough roller is used in the commercial pizzeria restaurant because of its speed of use. This could also be used for the homemade pizza gourment. This docker is used to easily and quickly allow bakers to dock dough just by rolling over the spiked portion back and forth with firm pressure over dough.
PIZZA, PASTRY, TART, NAAN, PIE, FLATBREAD BUT NOT COOKIES – Pizza dough, Pastry dough, tart dough, naan bread, flat bread and pie crusts are some of the most commonly docked dough because bakers typically want them to bake as evenly as possible (particularly if there are toppings or fillings involved) in the oven. But for cookies it is a little big.
BUY ONE GET THREE – Buy it right now, you will not only receive a dough docker, but also a pizza cutter and a pastry scraper within a beautiful gift package. You can use them all in the whole process of making pizza. Firstly, cut the dough with pastry scraper, and then roll dough docker on the dough. Lastly, cut the pizza with pizza cutter. They are also thoughtful gifts for lovers of baking.
Sale
Augosta Pizza Stone for Oven and Grill, Free Wooden Pizza Peel paddle, Durable and Safe Baking Stone for grill, Thermal Shock Resistant cooking stone, 15 x 12 Inch
Size: The pizza stone measures 15" X 12" X 0.6", Golden thickness(15mm), weighs up to 6.7Lbs. Come with a free pizza peel board(11" X 15.6" x 0.35")
Material: Made of 100% all-natural FDA-safe Cordierite stone, it is no smell and excellent thermal shock resistance. Heat-safe up to 1112°F(600℃). It could distributes heat evenly for optimal cooking, much more efficient than metal
Multipurpose: Besides baking the fresh or frozen pizzas, this pizza stone set can be used for many other culinary explorations. Perfect for bread, cookies, stuffed calzone at home
Clean: Scrape off any excess food with a spatula before clean. When the stone has cooled, run it under warm water while scrubbing with a brush. Never use soap or detergent on a stone, which will leave a soapy aftertaste
After-sales Service: If you receive damaged stone or have any questions about quality and instructions during use, please feel free to contact us