Mooncake season in Singapore brings joy and excitement as households, shops, and restaurants prepare for the annual celebration.
These delectable treats, shaped like elegant full moons, symbolize unity, prosperity, and happiness.
While they are commonly enjoyed during the Mid-Autumn Festival, singapore mooncakes have become a beloved treat all year round.
Beyond their captivating appearance and enticing flavors, mooncakes offer a plethora of delightful benefits.
From their cultural significance to their impact on well-being, this article explores the advantages of indulging in these sweet delights.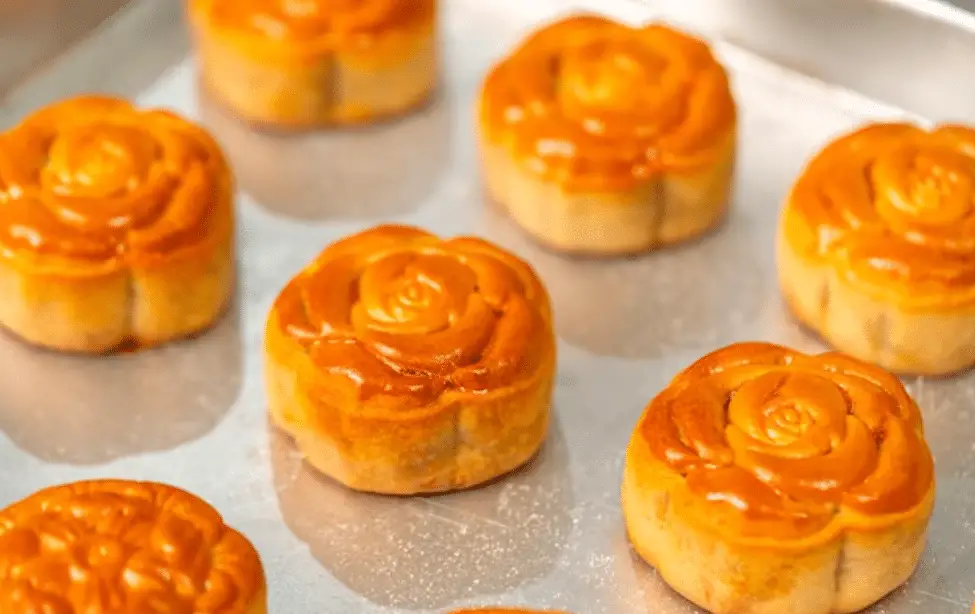 Cultural Significance: Preserving Traditions
A Taste of Asian Heritage
Mooncakes have been an integral part of Asian culture for centuries.
In Singapore, they serve as a bridge connecting generations, preserving traditions, and fostering a sense of shared identity.
By participating in the Mooncake Festival in Singapore, individuals embrace their roots and strengthen family ties.
The act of gifting and sharing mooncakes brings people together, creating cherished memories that transcend time.
The cultural significance of mooncakes extends beyond the immediate family.
They are presented as a gesture of goodwill to friends, colleagues, and business partners, symbolizing unity and harmony.
It is a delightful way to express gratitude and strengthen bonds in both personal and professional relationships.
Nourishing the Body: A Nutrient-Rich Treat
Satisfy Your Cravings and Fuel Your Body
While mooncakes are a delicious indulgence, they also offer several nourishing qualities that delight both the taste buds and the body. 
Made with various wholesome ingredients, they can be a nutritious snack when eaten in moderation. Here are some key ingredients commonly found in mooncakes:
Lotus Seed Paste: A popular filling option, lotus seed paste is rich in essential nutrients like protein, calcium, and iron, promoting healthy bones, muscle growth, and blood circulation.

Red Bean Paste: Known for its sweet and slightly nutty flavor, red bean paste provides dietary fiber, iron, and B vitamins, supporting digestion and maintaining energy levels.

Black Sesame Paste: Often used in mooncakes as a filling, black sesame paste is a powerhouse of antioxidants, healthy fats, vitamins, and minerals, contributing to skin health, brain function, and reducing inflammation.

Salted Egg Yolk: While salted egg yolks in mooncakes are not as nutrient-dense as the other ingredients mentioned above, they add a unique flavor profile. It is worth noting that excessive consumption should be avoided due to their high cholesterol content.



A Balancing Act: Exploring Different Perspectives
Balance is Key
When it comes to indulging in mooncakes, it is essential to strike a balance between enjoyment and moderation.
While mooncakes can be a wonderful treat, some perspectives emphasize the importance of mindful consumption to maintain overall well-being. Let's take a closer look at different viewpoints:
1. Moderation and Portion Control
Eating mooncakes in moderation is essential for maintaining a healthy lifestyle.
The high sugar and calorie content of mooncakes make portion control crucial.
Enjoying a small piece or sharing mooncakes with loved ones can help avoid excessive intake of sugar and calories, especially for those with specific dietary concerns.
2. Mindful Choices
Opting for healthier mooncake options can be a way to align with personal dietary goals without missing out on the celebration.
As the demand for healthier alternatives rises, bakeries like bread garden offer low-sugar, low-fat, and even vegan mooncakes, satisfying the cravings of health-conscious individuals while still indulging in the festive spirit.
3. Cultural Appreciation
While health considerations are important, appreciating cultural diversity and celebrating traditional treats is equally significant.
The act of enjoying mooncakes with loved ones and embracing cultural practices outweighs the temporary pleasure of the food itself.
Balancing cultural significance with personal well-being creates a wholesome experience.
Personal Experiences: Tales of Mooncakes and Memories
Nostalgic Moments and Joyous Occasions
For many, indulging in mooncakes is more than just satisfying cravings; it is an experience intertwined with fond memories and joyful celebrations.
Here are a few personal anecdotes that reflect the emotional connections people have with these sweet treats:
The Reunion Tradition

: Every year, as Mid-Autumn Festival approaches, families reunite to savor mooncakes together. For Tze Wei, a Singaporean residing abroad, the taste of mooncakes instantly transports her back to her hometown, reminding her of laughter-filled gatherings and the warmth of family.

Generations United

: Valerie, a Singaporean millennial, cherishes her grandmother's handmade mooncakes. The meticulous process of crafting these delicacies, passed down through generations, creates a bond that connects her to her roots and heritage.

A Symbol of Prosperity

: Jenny, a young professional, eagerly awaits the Mid-Autumn Festival to exchange mooncakes with her colleagues. Amidst the exchange of these delectable treats, new friendships are forged and existing ones are strengthened, symbolizing the shared hope for a prosperous future.



These anecdotes emphasize the emotional connection, cultural significance, and cherished memories that mooncakes evoke, transcending their role as just food.
Conclusion
Mooncakes in Singapore represent much more than delectable pastries. They embody cultural heritage, nurture relationships, and offer a delightful blend of flavors and textures.
These sweet treats not only tantalize the taste buds but also provide essential nutrients that support overall well-being.
By indulging in mooncakes mindfully, embracing cultural traditions, and enjoying the shared experience, we celebrate the essence of the Mid-Autumn Festival and the joy it brings to our lives.
---
Pizza Stone Dough Roller Slicer Sauce
We exclusively bring you lists of some gadgets related to food, drinks, beverages for your home, kitchen, picnic, parties and more. Below are highly reviewed Pizza Stone Dough Roller Slicer Sauce on sale from Amazon store. ENJOY 🙂

Pastorelli Pizza Sauce, Original Authentic Italian Pizza Sauce with Extra Virgin Olive Oil and Pecorino Romano Cheese Shredded, Since 1952 Family Pizza Sauce Recipe, 8 Ounce, Pack of 12
AWARD-WINNING PIZZA SAUCE – Enjoy the unbeatable taste of the award-winning Pastorelli Pizza Sauce, awarded 5 grand gold medals in its own category by "being In a Class by itself".
AUTHENTIC ITALIAN RECIPE – An incredibly authentic Italian pizza sauce recipe, Pastorelli's famous Italian Chef Pizza Sauce has been a family recipe and a best-seller since 1952.
JUICY, ZESTY FLAVOR – Made with fresh San Marzano-style tomatoes, plucked off the vine at their juicy, ripened peak for a fresh pizza sauce taste, our premium pizza sauce has a homemade zesty flavor.
WITH CHEESE AND OLIVE OIL – Enhanced by imported Pecorino Romano cheese and extra-virgin olive oil, our pizza sauce with cheese is versatile to be used also as a pizza pasta sauce.
A FAMILY RECIPE SINCE 1952 – This 8 oz pizza sauce can will make one 16″ inch pizza or two 12″ pizzas. Non-GMO | No Added Sugars | Gluten Free | BPA Free | Preservative Free.
Sale
Kitchy Pizza Cutter Wheel with Protective Blade Cover, Ergonomic Pizza Slicer (Green)
NO EFFORT PIZZA CUTTER – Stable vertical pressure and large cutting wheel for easy and perfectly controlled cutting process.
GET THE PERFECT SLICE IN ONE CUT – This pizza cutter will leave you shocked with how easy it is to get a nice, clean cut through your pizza.
COMFORTABLY FITS IN THE PALM OF YOUR HAND - This pizza slicer's unique design easily fits in your hand and also in your cutlery drawer.
PROTECTIVE BLADE GUARD FOR EASY STORAGE – This pizza cutter wheel comes with a blade guard to keep your cutter securely stored away when you're not using it.
DISASSEMBLES FOR THOROUGH CLEANING AND DISHWASHER SAFE – Take it apart in 3 simple steps and put it in the dishwasher for thorough cleaning.
Weisenberger Pizza Crust Mix - Pizza Dough Mix for Homemade Pizza - Pizza Flour Mix for Pizza Crust Dough In Minutes - Premade Pizza Dough Fresh Ingredients, No Preservatives - 6.5 oz, 12 Pack
EXCELLENT TEXTURE AND FLAVOR: Perfect for New York Style pizza or rolled thin and crispy, Weisenberger's creates a deliciously chewy dough with enough strength to hold your favorite toppings.
HIGH QUALITY INGREDIENTS: Weisenberger mills the flour used to make the pizza crust mix on site, as it has since 1865, to create a high quality and delicious pizza flour.
SIMPLE TO MAKE: With two types of flour, salt, and yeast combined in perfect proportions, Weisenberger Pizza Mix is easy to use: just add ½ cup hot water, let rise, and bake.
CONVENIENT SIZE: One 6.5 oz package makes a mouth-watering 12 inch pizza, or a 14 inch thin crust perfect for homemade pizza night! This listing is for a 12 pack.
MAKE MORE THAN PIZZA: Weisenberger Pizza Crust mix is versatile enough for more than pizza. Create delicious breadsticks, calzones, cinnamon rolls, flatbread, and more!
Norpro Wood Pastry/Pizza Roller 4in/10cm
Measures: 7.25" x 4.5" x 1.25" / 18.5cm x 11.5cm x 3cm. Large roller: 4.125" / 10.5cm. Small roller: 2.5" / 6cm
To help achieve a perfectly cooked crust, it needs to be of a uniform thickness. The Norpro Pastry/Pizza Roller is the perfect 2-in-1 tool for pies, cookies and pizza dough!
The large roller smoothly rolls out dough, creating a uniform crust. Easy to use on your pastry mat/cutting board or directly in the pan!
The small roller makes it easy to fill in dough to the edges, smooths edges and sides, and ensures uniform depth around the inner rim of the pan.
Also ideal to crush nuts, crackers, cookies and bread crumbs!
Meta-U Time-Saver Pizza Dough Roller Docker - Dough Blistering Killer - Buy One Get Three (Pizza Cutter and Pastry Scraper) - Gift Package
BEAT THE HELL OUT OF FORK – So much easier, faster and more fun than using a fork. Also not deep like a fork. Docking is the process of creating small vents in dough to prevent it from blistering and rising in large, uneven pockets during baking. The docker does take the guess work out of docking, however, since you don't need to wonder whether you've added enough holes to your dough or whether it is evenly marked.
TIME-SAVER AND LAST FOR YEARS – A dough docker is one of the stranger looking tools that you might find in your kitchen. Dough dockers are used to knock air out of your dough once it has been rolled. The dough docker will create numerous puncture holes in the dough to ensure there are no air gaps in your pizza base once it is cooked. Taking the 10 seconds to dock your dough prior to baking could save you several minutes later when it comes to popping bubbles throughout the baking process.
NOT ONLY FOR RESTAURANT BUT ALSO FOR HOMEMADE – Generally this commercial pizza dough roller is used in the commercial pizzeria restaurant because of its speed of use. This could also be used for the homemade pizza gourment. This docker is used to easily and quickly allow bakers to dock dough just by rolling over the spiked portion back and forth with firm pressure over dough.
PIZZA, PASTRY, TART, NAAN, PIE, FLATBREAD BUT NOT COOKIES – Pizza dough, Pastry dough, tart dough, naan bread, flat bread and pie crusts are some of the most commonly docked dough because bakers typically want them to bake as evenly as possible (particularly if there are toppings or fillings involved) in the oven. But for cookies it is a little big.
BUY ONE GET THREE – Buy it right now, you will not only receive a dough docker, but also a pizza cutter and a pastry scraper within a beautiful gift package. You can use them all in the whole process of making pizza. Firstly, cut the dough with pastry scraper, and then roll dough docker on the dough. Lastly, cut the pizza with pizza cutter. They are also thoughtful gifts for lovers of baking.
Sale
Augosta Pizza Stone for Oven and Grill, Free Wooden Pizza Peel paddle, Durable and Safe Baking Stone for grill, Thermal Shock Resistant cooking stone, 15 x 12 Inch
Size: The pizza stone measures 15" X 12" X 0.6", Golden thickness(15mm), weighs up to 6.7Lbs. Come with a free pizza peel board(11" X 15.6" x 0.35")
Material: Made of 100% all-natural FDA-safe Cordierite stone, it is no smell and excellent thermal shock resistance. Heat-safe up to 1112°F(600℃). It could distributes heat evenly for optimal cooking, much more efficient than metal
Multipurpose: Besides baking the fresh or frozen pizzas, this pizza stone set can be used for many other culinary explorations. Perfect for bread, cookies, stuffed calzone at home
Clean: Scrape off any excess food with a spatula before clean. When the stone has cooled, run it under warm water while scrubbing with a brush. Never use soap or detergent on a stone, which will leave a soapy aftertaste
After-sales Service: If you receive damaged stone or have any questions about quality and instructions during use, please feel free to contact us