In our ever-evolving world, college life has become more demanding than ever before. College students can be overwhelmed with academics, extracurriculars, part-time employment, and social obligations. Amidst this chaos, one often neglected aspect is nutrition. Healthy dietary choices are crucial to college students' health and success. In this article, we explore how mindful eating may change college students' lives.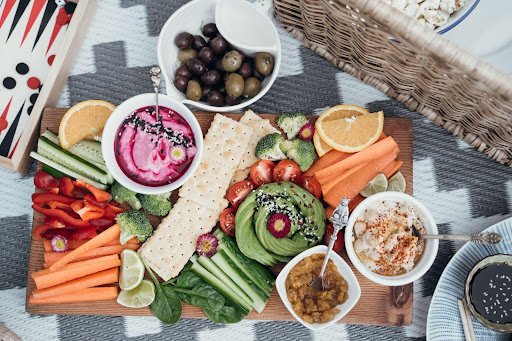 The College Juggling Act
College life requires mental and physical stamina due to its fast pace and multitasking. Students must succeed academically, socialize, and work part-time to support themselves. All these responsibilities can take a toll on their physical and mental health.
The Power of Nutrient-Rich Foods
We often hear the phrase, "You are what you eat," and this couldn't be truer for college students. How well and how well kids do in school depends on what they put in their bodies. Here's how a diet rich in essential nutrients can make a significant difference:
Enhanced Cognitive Function
The brain is the epicenter of a student's academic journey. It requires optimal nourishment. Leafy vegetables, fatty salmon, and whole grains contain vitamins and minerals. They boost memory, focus, and complicated information processing, all crucial to academic achievement. Adopting effective study techniques can complement the benefits of a brain-boosting diet. Detailed study schedules, mnemonic devices, and active remembering can boost nutrition's cognitive benefits. College students can do well in school and finish their tasks if they eat well and use these techniques. This will help them succeed in their essays and academic path.
Sustainable Energy Levels
Long hours of classes, late-night study sessions, and hectic schedules demand sustained energy levels. Fast food and sugary snacks may provide quick energy spikes but often lead to energy crashes. On the other hand, a diet rich in complex carbohydrates, lean proteins, and healthy fats ensures steady energy throughout the day, helping students stay focused and alert.
Immune System Support
College campuses can be a breeding ground for illnesses. Proper nutrition boosts the immune system, reducing the chances of falling sick. Fresh fruits and vegetables, packed with vitamins and antioxidants, strengthen the body's defenses, allowing students to stay healthy and attend classes regularly.
Stress Management
Amidst the rigors of college life, maintaining good mental health is paramount, and this extends to the realm of essay writing. The academic demands and pressures can take a toll on students' well-being, causing stress and anxiety. There is a direct connection between the choices we make in our diets and our mental states. Dark chocolate, nuts, and berries, which boost mood, can reduce tension and anxiety. A balanced diet boosts serotonin, a chemical that promotes pleasure and well-being. Which helps you stay happy while writing difficult essays and academic assignments.
But the connection between mental well-being and successful essay writing doesn't stop at dietary choices. Incorporating relaxation techniques into one's daily routine can further enhance overall mental health and, consequently, the quality of essays. In order to have a full-fledged rest, you can turn for help to the argumentative essay writing service that would distract from the student routine. A healthy diet, deep breathing, mindfulness meditation, and exercise. All these assist college students in lowering stress. These holistic strategies increase:
mental health;

focus;

resilience. 
Which are essential for college and difficult essays.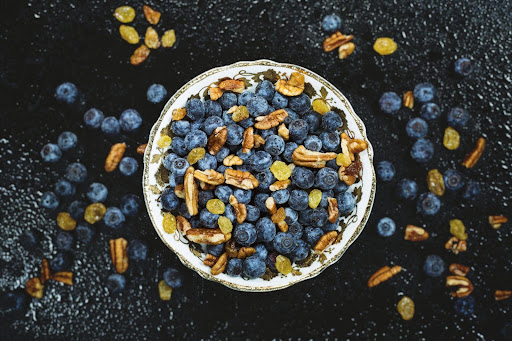 Practical Tips for College Students
Making the switch to a healthier diet can be daunting, especially for college students with limited time and resources. Here are some practical tips to help them make informed food choices:
Meal Planning
Planning meals in advance can save time and ensure that students have access to nutritious options. They can prepare a weekly meal plan that includes a variety of foods to meet their dietary needs.
Healthy Snacking
Snacking doesn't have to be synonymous with chips and soda. College students can stock up on nutritious snacks like yogurt, cut-up veggies, or mixed nuts to curb hunger between meals.
Budget-Friendly Options
Eating healthily on a tight budget is possible. Students can explore affordable options like buying in bulk, choosing seasonal produce, and utilizing student discounts at local grocery stores.
Stay Hydrated
Proper hydration is often overlooked but is crucial for overall health. Students should carry a reusable water bottle and aim to drink an adequate amount of water throughout the day.
Conclusion
In the fast-paced world of college life, making healthy food choices is not just an option; it's a necessity. We can't say enough about how important diet is for a student's brain, energy, immune system, and ability to deal with stress. By putting a balanced diet first, college students can improve their general health and do better in school.
Author's Bio
Daniel Tanderman is an accomplished writer and researcher with a profound passion for the art of content creation. His extensive experience spans various domains, with a particular focus on crafting insightful and thought-provoking essays. Daniel's dedication to meticulous research and his ability to convey complex ideas in a clear and engaging manner have made him a valuable contributor to the world of written discourse. His work serves as a testament to the power of words to inform, inspire, and ignite intellectual curiosity.
---
Pizza Stone Dough Roller Slicer Sauce
We exclusively bring you lists of some gadgets related to food, drinks, beverages for your home, kitchen, picnic, parties and more. Below are highly reviewed Pizza Stone Dough Roller Slicer Sauce on sale from Amazon store. ENJOY 🙂

Pastorelli Pizza Sauce, Original Authentic Italian Pizza Sauce with Extra Virgin Olive Oil and Pecorino Romano Cheese Shredded, Since 1952 Family Pizza Sauce Recipe, 8 Ounce, Pack of 12
AWARD-WINNING PIZZA SAUCE – Enjoy the unbeatable taste of the award-winning Pastorelli Pizza Sauce, awarded 5 grand gold medals in its own category by "being In a Class by itself".
AUTHENTIC ITALIAN RECIPE – An incredibly authentic Italian pizza sauce recipe, Pastorelli's famous Italian Chef Pizza Sauce has been a family recipe and a best-seller since 1952.
JUICY, ZESTY FLAVOR – Made with fresh San Marzano-style tomatoes, plucked off the vine at their juicy, ripened peak for a fresh pizza sauce taste, our premium pizza sauce has a homemade zesty flavor.
WITH CHEESE AND OLIVE OIL – Enhanced by imported Pecorino Romano cheese and extra-virgin olive oil, our pizza sauce with cheese is versatile to be used also as a pizza pasta sauce.
A FAMILY RECIPE SINCE 1952 – This 8 oz pizza sauce can will make one 16″ inch pizza or two 12″ pizzas. Non-GMO | No Added Sugars | Gluten Free | BPA Free | Preservative Free.
Sale
Kitchy Pizza Cutter Wheel with Protective Blade Cover, Ergonomic Pizza Slicer (Green)
NO EFFORT PIZZA CUTTER – Stable vertical pressure and large cutting wheel for easy and perfectly controlled cutting process.
GET THE PERFECT SLICE IN ONE CUT – This pizza cutter will leave you shocked with how easy it is to get a nice, clean cut through your pizza.
COMFORTABLY FITS IN THE PALM OF YOUR HAND - This pizza slicer's unique design easily fits in your hand and also in your cutlery drawer.
PROTECTIVE BLADE GUARD FOR EASY STORAGE – This pizza cutter wheel comes with a blade guard to keep your cutter securely stored away when you're not using it.
DISASSEMBLES FOR THOROUGH CLEANING AND DISHWASHER SAFE – Take it apart in 3 simple steps and put it in the dishwasher for thorough cleaning.
Weisenberger Pizza Crust Mix - Pizza Dough Mix for Homemade Pizza - Pizza Flour Mix for Pizza Crust Dough In Minutes - Premade Pizza Dough Fresh Ingredients, No Preservatives - 6.5 oz, 12 Pack
EXCELLENT TEXTURE AND FLAVOR: Perfect for New York Style pizza or rolled thin and crispy, Weisenberger's creates a deliciously chewy dough with enough strength to hold your favorite toppings.
HIGH QUALITY INGREDIENTS: Weisenberger mills the flour used to make the pizza crust mix on site, as it has since 1865, to create a high quality and delicious pizza flour.
SIMPLE TO MAKE: With two types of flour, salt, and yeast combined in perfect proportions, Weisenberger Pizza Mix is easy to use: just add ½ cup hot water, let rise, and bake.
CONVENIENT SIZE: One 6.5 oz package makes a mouth-watering 12 inch pizza, or a 14 inch thin crust perfect for homemade pizza night! This listing is for a 12 pack.
MAKE MORE THAN PIZZA: Weisenberger Pizza Crust mix is versatile enough for more than pizza. Create delicious breadsticks, calzones, cinnamon rolls, flatbread, and more!
Norpro Wood Pastry/Pizza Roller 4in/10cm
Measures: 7.25" x 4.5" x 1.25" / 18.5cm x 11.5cm x 3cm. Large roller: 4.125" / 10.5cm. Small roller: 2.5" / 6cm
To help achieve a perfectly cooked crust, it needs to be of a uniform thickness. The Norpro Pastry/Pizza Roller is the perfect 2-in-1 tool for pies, cookies and pizza dough!
The large roller smoothly rolls out dough, creating a uniform crust. Easy to use on your pastry mat/cutting board or directly in the pan!
The small roller makes it easy to fill in dough to the edges, smooths edges and sides, and ensures uniform depth around the inner rim of the pan.
Also ideal to crush nuts, crackers, cookies and bread crumbs!
Meta-U Time-Saver Pizza Dough Roller Docker - Dough Blistering Killer - Buy One Get Three (Pizza Cutter and Pastry Scraper) - Gift Package
BEAT THE HELL OUT OF FORK – So much easier, faster and more fun than using a fork. Also not deep like a fork. Docking is the process of creating small vents in dough to prevent it from blistering and rising in large, uneven pockets during baking. The docker does take the guess work out of docking, however, since you don't need to wonder whether you've added enough holes to your dough or whether it is evenly marked.
TIME-SAVER AND LAST FOR YEARS – A dough docker is one of the stranger looking tools that you might find in your kitchen. Dough dockers are used to knock air out of your dough once it has been rolled. The dough docker will create numerous puncture holes in the dough to ensure there are no air gaps in your pizza base once it is cooked. Taking the 10 seconds to dock your dough prior to baking could save you several minutes later when it comes to popping bubbles throughout the baking process.
NOT ONLY FOR RESTAURANT BUT ALSO FOR HOMEMADE – Generally this commercial pizza dough roller is used in the commercial pizzeria restaurant because of its speed of use. This could also be used for the homemade pizza gourment. This docker is used to easily and quickly allow bakers to dock dough just by rolling over the spiked portion back and forth with firm pressure over dough.
PIZZA, PASTRY, TART, NAAN, PIE, FLATBREAD BUT NOT COOKIES – Pizza dough, Pastry dough, tart dough, naan bread, flat bread and pie crusts are some of the most commonly docked dough because bakers typically want them to bake as evenly as possible (particularly if there are toppings or fillings involved) in the oven. But for cookies it is a little big.
BUY ONE GET THREE – Buy it right now, you will not only receive a dough docker, but also a pizza cutter and a pastry scraper within a beautiful gift package. You can use them all in the whole process of making pizza. Firstly, cut the dough with pastry scraper, and then roll dough docker on the dough. Lastly, cut the pizza with pizza cutter. They are also thoughtful gifts for lovers of baking.
Sale
Augosta Pizza Stone for Oven and Grill, Free Wooden Pizza Peel paddle, Durable and Safe Baking Stone for grill, Thermal Shock Resistant cooking stone, 15 x 12 Inch
Size: The pizza stone measures 15" X 12" X 0.6", Golden thickness(15mm), weighs up to 6.7Lbs. Come with a free pizza peel board(11" X 15.6" x 0.35")
Material: Made of 100% all-natural FDA-safe Cordierite stone, it is no smell and excellent thermal shock resistance. Heat-safe up to 1112°F(600℃). It could distributes heat evenly for optimal cooking, much more efficient than metal
Multipurpose: Besides baking the fresh or frozen pizzas, this pizza stone set can be used for many other culinary explorations. Perfect for bread, cookies, stuffed calzone at home
Clean: Scrape off any excess food with a spatula before clean. When the stone has cooled, run it under warm water while scrubbing with a brush. Never use soap or detergent on a stone, which will leave a soapy aftertaste
After-sales Service: If you receive damaged stone or have any questions about quality and instructions during use, please feel free to contact us