While you might wish to focus on making great food and sharing recipes with people, you will benefit from promotion. Using specific techniques to build traffic means that you will be able to reach more people and share your food messages and recipes with more of the world.
We agree that you should focus on the food and its quality, but it doesn't hurt to yell into a megaphone now and then, especially when it is for a good cause like an excellent food blog.
We have identified 10 keys to successful blog promotion for food bloggers. Let's dive in.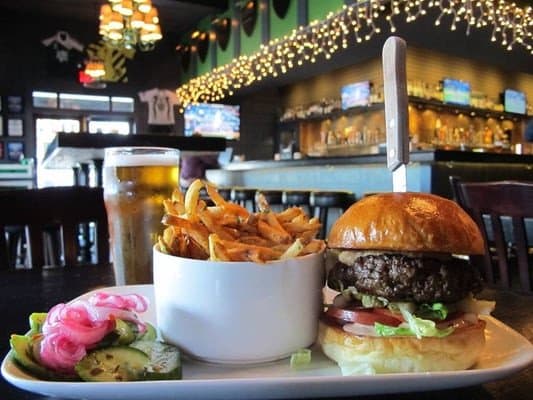 Be specific
Trying to do everything for everyone gets tiring pretty quickly. It also leads to spreading yourself so thinly that you end up not satisfying anyone, least of all yourself. Better advice is to find your niche.
When you have identified the core values of your blog, the kind of food that interests you, and the exact people for whom you are creating the blog, you can avoid unnecessary competition and it will be easier for your blog to stand out.
Having a niche blog makes it easier for more of the right people to find you. You will not only boost your traffic, but you will get better quality traffic, which can lead to more conversions and engagement and good things for you and your food blog.
Use social media
Use several different platforms and play to their strengths. You are going to want to be on the visual platforms, so Pinterest and Instagram are musts. Facebook is great for getting shares and generating buzz.
Also consider other avenues, such as Medium, which might be a good place to talk about food more generally — rather than individual recipes, for example — and build your reputation as an authority. Answering questions on Quora is also a good way to demonstrate your expertise and promote your blog.
Be consistent
Look at how often to post on the social media platforms you will target. Optimum posting times and frequencies will vary. Create schedules and stick to them. People will get used to you posting content at a certain time, like a TV or radio schedule.
Being consistent will help keep your brand in their minds and make them look forward to your posts.
Be yourself
One of the best ways to develop a unique voice that attracts visitors is to be authentic. Use your unique voice. Write about things that interest you. Be honest about your approach to food.
Being yourself also means generating original content. Don't copy.
With consistent posting, expertise, and fearlessly going your own way, you can become an authoritative voice that people listen to, not necessarily because they agree with you but because you are not blindly agreeing with everyone else.
Remember that it doesn't happen overnight
A content strategy is typically a long-term investment. Boosting traffic can happen quickly, such as if you hit a viral article because the timing and content are right, or if a Google algorithm update favors your way of doing things.
Bear in mind that growing traffic is typically a longer-term affair. Appreciate that building steady traffic takes time.
Use SEO techniques
The quality and regularity of your content determine how much traffic you get. However, many other factors have less to do with the quality of your food but nonetheless affect the visibility of your page in search engine results pages (SERPs), especially Google's.
As well as creating human-centric content for people to enjoy, SEO includes technical considerations, such as:
Having clear, consistent navigation
Using meta tags for descriptions
Limiting image sizes to optimize page loading speeds
Work with potential business partners
Doing a guest spot on an influential blog or having a well-known food blogger appear on your website can help provide a boost in traffic. It can help you attract new visitors and give you a bit of kudos.
Partnerships might also exist in other arenas, such as teaming up with event organizers or sellers of kitchenware.
Whatever kind of complimentary arrangement you work out, choose your partners wisely. You need to work with someone who is professional and reliable, as well as someone who has the figures to make a partnership make business sense.
Use Leadar to find businesses that could be a great fit for your business and your marketing needs. It is an excellent source of vetted, reputable professional contacts. It is also useful for building verifiable marketing lists that can help you network and sell.
Invest time in promotion
Note that however long you spend on creating content, you should probably be spending as long again promoting it.
Promoting your food blog means engaging with comments and actively telling people about your latest, greatest posts. Note that posting the same message on various social media outlets is a no-no. Tailor your promotional material to suit the style of the people who use each platform.
Make sure your site is listed in related directories on the web, too, such as Food Bloggers and Jager Foods, as well as niche directories that match the category of the food you create.
Use paid advertising
Paying for advertising with the likes of Google and Facebook is not dirty. It is an increasingly important tactic to ensure content gets the visibility and traction it deserves.
Once you have people visiting your site and recommending your blog posts, organic traffic can build, potentially exponentially. But to get the ball rolling, at the very least, paid ads can help you get your brand in front of the people who can benefit from it.
With paid ads on Facebook, you can target precise demographics, targeting leads by their interests, location, age, gender, and many other useful characteristics.
Facebook, Google, and other sites that will serve your ads also provide detailed statistics to help you see what is working, how much you are spending, and how to reach more people cost-effectively.
These benefits make paying for ads an almost essential component of a marketing campaign intended to promote your food blog and boost traffic.
Keep up the quality
Creating content on a schedule can be a lot of pressure. However, it is critical to maintain the quality of your posts. All the marketing advice in the world won't help you if your posts feature bland food, unoriginal ideas, and terrible imagery.
Promoting your blog is hard work. Make it worthwhile by committing to create content (and recipes and meals) that make you proud.
Conclusion
Don't lose sight of why you got into food blogging in the first place. You most likely have a strong creative side and somewhere in there will be a love of food and meal preparation.
Sharing your passion via food blogs gives people inspiration and can help them eat healthily, on a budget, quickly, or all of the above. Help your blog posts move more people by making the most of these keys to food blog promotion success.
---
Pizza Stone Dough Roller Slicer Sauce
We exclusively bring you lists of some gadgets related to food, drinks, beverages for your home, kitchen, picnic, parties and more. Below are highly reviewed Pizza Stone Dough Roller Slicer Sauce on sale from Amazon store. ENJOY 🙂

Pastorelli Pizza Sauce, Original Authentic Italian Pizza Sauce with Extra Virgin Olive Oil and Pecorino Romano Cheese Shredded, Since 1952 Family Pizza Sauce Recipe, 8 Ounce, Pack of 12
AWARD-WINNING PIZZA SAUCE – Enjoy the unbeatable taste of the award-winning Pastorelli Pizza Sauce, awarded 5 grand gold medals in its own category by "being In a Class by itself".
AUTHENTIC ITALIAN RECIPE – An incredibly authentic Italian pizza sauce recipe, Pastorelli's famous Italian Chef Pizza Sauce has been a family recipe and a best-seller since 1952.
JUICY, ZESTY FLAVOR – Made with fresh San Marzano-style tomatoes, plucked off the vine at their juicy, ripened peak for a fresh pizza sauce taste, our premium pizza sauce has a homemade zesty flavor.
WITH CHEESE AND OLIVE OIL – Enhanced by imported Pecorino Romano cheese and extra-virgin olive oil, our pizza sauce with cheese is versatile to be used also as a pizza pasta sauce.
A FAMILY RECIPE SINCE 1952 – This 8 oz pizza sauce can will make one 16″ inch pizza or two 12″ pizzas. Non-GMO | No Added Sugars | Gluten Free | BPA Free | Preservative Free.
Sale
Kitchy Pizza Cutter Wheel with Protective Blade Cover, Ergonomic Pizza Slicer (Green)
NO EFFORT PIZZA CUTTER – Stable vertical pressure and large cutting wheel for easy and perfectly controlled cutting process.
GET THE PERFECT SLICE IN ONE CUT – This pizza cutter will leave you shocked with how easy it is to get a nice, clean cut through your pizza.
COMFORTABLY FITS IN THE PALM OF YOUR HAND - This pizza slicer's unique design easily fits in your hand and also in your cutlery drawer.
PROTECTIVE BLADE GUARD FOR EASY STORAGE – This pizza cutter wheel comes with a blade guard to keep your cutter securely stored away when you're not using it.
DISASSEMBLES FOR THOROUGH CLEANING AND DISHWASHER SAFE – Take it apart in 3 simple steps and put it in the dishwasher for thorough cleaning.
Weisenberger Pizza Crust Mix - Pizza Dough Mix for Homemade Pizza - Pizza Flour Mix for Pizza Crust Dough In Minutes - Premade Pizza Dough Fresh Ingredients, No Preservatives - 6.5 oz, 12 Pack
EXCELLENT TEXTURE AND FLAVOR: Perfect for New York Style pizza or rolled thin and crispy, Weisenberger's creates a deliciously chewy dough with enough strength to hold your favorite toppings.
HIGH QUALITY INGREDIENTS: Weisenberger mills the flour used to make the pizza crust mix on site, as it has since 1865, to create a high quality and delicious pizza flour.
SIMPLE TO MAKE: With two types of flour, salt, and yeast combined in perfect proportions, Weisenberger Pizza Mix is easy to use: just add ½ cup hot water, let rise, and bake.
CONVENIENT SIZE: One 6.5 oz package makes a mouth-watering 12 inch pizza, or a 14 inch thin crust perfect for homemade pizza night! This listing is for a 12 pack.
MAKE MORE THAN PIZZA: Weisenberger Pizza Crust mix is versatile enough for more than pizza. Create delicious breadsticks, calzones, cinnamon rolls, flatbread, and more!
Norpro Wood Pastry/Pizza Roller 4in/10cm
Measures: 7.25" x 4.5" x 1.25" / 18.5cm x 11.5cm x 3cm. Large roller: 4.125" / 10.5cm. Small roller: 2.5" / 6cm
To help achieve a perfectly cooked crust, it needs to be of a uniform thickness. The Norpro Pastry/Pizza Roller is the perfect 2-in-1 tool for pies, cookies and pizza dough!
The large roller smoothly rolls out dough, creating a uniform crust. Easy to use on your pastry mat/cutting board or directly in the pan!
The small roller makes it easy to fill in dough to the edges, smooths edges and sides, and ensures uniform depth around the inner rim of the pan.
Also ideal to crush nuts, crackers, cookies and bread crumbs!
Sale
Meta-U Time-Saver Pizza Dough Roller Docker - Dough Blistering Killer - Buy One Get Three (Pizza Cutter and Pastry Scraper) - Gift Package
BEAT THE HELL OUT OF FORK – So much easier, faster and more fun than using a fork. Also not deep like a fork. Docking is the process of creating small vents in dough to prevent it from blistering and rising in large, uneven pockets during baking. The docker does take the guess work out of docking, however, since you don't need to wonder whether you've added enough holes to your dough or whether it is evenly marked.
TIME-SAVER AND LAST FOR YEARS – A dough docker is one of the stranger looking tools that you might find in your kitchen. Dough dockers are used to knock air out of your dough once it has been rolled. The dough docker will create numerous puncture holes in the dough to ensure there are no air gaps in your pizza base once it is cooked. Taking the 10 seconds to dock your dough prior to baking could save you several minutes later when it comes to popping bubbles throughout the baking process.
NOT ONLY FOR RESTAURANT BUT ALSO FOR HOMEMADE – Generally this commercial pizza dough roller is used in the commercial pizzeria restaurant because of its speed of use. This could also be used for the homemade pizza gourment. This docker is used to easily and quickly allow bakers to dock dough just by rolling over the spiked portion back and forth with firm pressure over dough.
PIZZA, PASTRY, TART, NAAN, PIE, FLATBREAD BUT NOT COOKIES – Pizza dough, Pastry dough, tart dough, naan bread, flat bread and pie crusts are some of the most commonly docked dough because bakers typically want them to bake as evenly as possible (particularly if there are toppings or fillings involved) in the oven. But for cookies it is a little big.
BUY ONE GET THREE – Buy it right now, you will not only receive a dough docker, but also a pizza cutter and a pastry scraper within a beautiful gift package. You can use them all in the whole process of making pizza. Firstly, cut the dough with pastry scraper, and then roll dough docker on the dough. Lastly, cut the pizza with pizza cutter. They are also thoughtful gifts for lovers of baking.
Sale
Augosta Pizza Stone for Oven and Grill, Free Wooden Pizza Peel paddle, Durable and Safe Baking Stone for grill, Thermal Shock Resistant cooking stone, 15 x 12 Inch
Size: The pizza stone measures 15" X 12" X 0.6", Golden thickness(15mm), weighs up to 6.7Lbs. Come with a free pizza peel board(11" X 15.6" x 0.35")
Material: Made of 100% all-natural FDA-safe Cordierite stone, it is no smell and excellent thermal shock resistance. Heat-safe up to 1112°F(600℃). It could distributes heat evenly for optimal cooking, much more efficient than metal
Multipurpose: Besides baking the fresh or frozen pizzas, this pizza stone set can be used for many other culinary explorations. Perfect for bread, cookies, stuffed calzone at home
Clean: Scrape off any excess food with a spatula before clean. When the stone has cooled, run it under warm water while scrubbing with a brush. Never use soap or detergent on a stone, which will leave a soapy aftertaste
After-sales Service: If you receive damaged stone or have any questions about quality and instructions during use, please feel free to contact us