Every cook should equip their kitchen and restaurant with three essential knives, often referred to as "The Big Three": a chef's knife, a serrated knife (commonly known as a bread knife), and a Damascus blade. These three knives cover a wide range of kitchen tasks, from precise vegetable chopping to slicing thick cuts of meat. In this guide, we'll explore when and how to use each type of knife and recommend some of the best options available.
Our expert recommendations stem from a meticulous testing process that involved input from chefs, and restaurant owners. We then rigorously evaluated these knives, tailoring our testing methods to their most critical attributes. Below, you'll discover the primary knives every kitchen should have and our top picks for each category.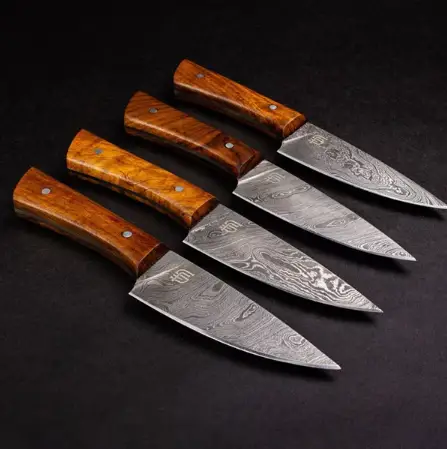 The Chef's Knife
The chef's knife is the kitchen's workhorse, capable of handling various tasks, from fine vegetable dicing to poultry butchery. Western chef's knives from regions like Germany and France typically have 8-10-inch curved blades, allowing for a rocking motion while cutting. In contrast, Japanese chef's knives, known as santokus, have shorter (6-7-inch) straight edges, leading to shorter, downward strokes. Santokus are generally lighter with finer blades, while Western chef's knives are preferred for tasks involving bone.
When selecting a chef's knife, prioritize a sharp blade, a comfortable handle, and the ability to achieve clean, uniform cuts. After assessing 30 chef's knives and santokus through laboratory and editorial testing, we've identified six outstanding options, catering to various cooking styles.
The Serrated Knife
Serrated knives, often found as bread knives, have scalloped edges resembling saw teeth. They excel at cutting through foods with tough exteriors and soft interiors, such as crusty bread or ripe pineapples. They are also ideal for slicing cakes cleanly. When choosing a bread knife, opt for a longer blade, typically ranging from 7 to 10 inches, to make slicing effortless without lifting the knife repeatedly. Consider handle clearance to prevent your knuckles from scraping the cutting board.
A Damascus knife is one of the best choice for both kitchen and restaurant use. These knives are known for their exceptional craftsmanship, sharpness, and durability, making them versatile tools for various culinary tasks in the home and kitchen. Here are some reasons why a Damascus knife is ideal for kitchen and restaurant settings:
High-Quality Craftsmanship: Damascus knives are crafted through a meticulous process that involves folding and layering multiple types of steel. This results in a blade with a distinctive wavy pattern, known as the Damascus pattern. This craftsmanship ensures that each knife is unique and of high quality.
Exceptional Sharpness: Damascus knives are known for their razor-sharp edges. This sharpness allows for precise and clean cuts, which is crucial in both home kitchens and professional restaurant settings. It enables chefs to achieve professional-level results.
Durability and Longevity: The layering and folding process used in making Damascus knives also contributes to their durability. They are less prone to chipping and breaking compared to some other types of knives. With proper care, a Damascus knife can last for many years.
Other Important Kitchen Knives
While chef's, serrated, and paring knives form the foundation of any kitchen, there are numerous specialized knives to explore. Enhance your culinary skills with these advanced knife options, recommended by our experts:
Cleaver: Chinese cleavers, resembling hatchets with rectangular blades, come in various sizes and serve multiple purposes. They are ideal for tasks requiring force, like cutting squash or breaking down bones. Look for a meat cleaver with a thick, heavy blade for bone-related tasks.
Nakiri: A Japanese knife designed for vegetable cutting, the nakiri features a straight, thin edge for precise chopping. It provides control and comfort in the kitchen.
Boning Knife: Western boning knives have narrow, flexible blades for separating meat from bone, while Japanese honesuki knives have thicker, pointed tips for piercing meat.
Storage and Maintenance: Proper knife storage is crucial. Consider knife blocks, in-drawer organizers, magnetic knife bars, or quality knife sheaths, depending on your kitchen's layout and accessibility. Regularly maintain your knives by using honing steel or a hand-held device between professional sharpenings.
In summary, these three essential kitchen knives, along with some specialized options, can significantly enhance your culinary experience. Invest in quality knives and maintain them properly to make the most of your cooking endeavors.
---
Pizza Stone Dough Roller Slicer Sauce
We exclusively bring you lists of some gadgets related to food, drinks, beverages for your home, kitchen, picnic, parties and more. Below are highly reviewed Pizza Stone Dough Roller Slicer Sauce on sale from Amazon store. ENJOY 🙂

Pastorelli Pizza Sauce, Original Authentic Italian Pizza Sauce with Extra Virgin Olive Oil and Pecorino Romano Cheese Shredded, Since 1952 Family Pizza Sauce Recipe, 8 Ounce, Pack of 12
AWARD-WINNING PIZZA SAUCE – Enjoy the unbeatable taste of the award-winning Pastorelli Pizza Sauce, awarded 5 grand gold medals in its own category by "being In a Class by itself".
AUTHENTIC ITALIAN RECIPE – An incredibly authentic Italian pizza sauce recipe, Pastorelli's famous Italian Chef Pizza Sauce has been a family recipe and a best-seller since 1952.
JUICY, ZESTY FLAVOR – Made with fresh San Marzano-style tomatoes, plucked off the vine at their juicy, ripened peak for a fresh pizza sauce taste, our premium pizza sauce has a homemade zesty flavor.
WITH CHEESE AND OLIVE OIL – Enhanced by imported Pecorino Romano cheese and extra-virgin olive oil, our pizza sauce with cheese is versatile to be used also as a pizza pasta sauce.
A FAMILY RECIPE SINCE 1952 – This 8 oz pizza sauce can will make one 16″ inch pizza or two 12″ pizzas. Non-GMO | No Added Sugars | Gluten Free | BPA Free | Preservative Free.
Sale
Kitchy Pizza Cutter Wheel with Protective Blade Cover, Ergonomic Pizza Slicer (Green)
NO EFFORT PIZZA CUTTER – Stable vertical pressure and large cutting wheel for easy and perfectly controlled cutting process.
GET THE PERFECT SLICE IN ONE CUT – This pizza cutter will leave you shocked with how easy it is to get a nice, clean cut through your pizza.
COMFORTABLY FITS IN THE PALM OF YOUR HAND - This pizza slicer's unique design easily fits in your hand and also in your cutlery drawer.
PROTECTIVE BLADE GUARD FOR EASY STORAGE – This pizza cutter wheel comes with a blade guard to keep your cutter securely stored away when you're not using it.
DISASSEMBLES FOR THOROUGH CLEANING AND DISHWASHER SAFE – Take it apart in 3 simple steps and put it in the dishwasher for thorough cleaning.
Weisenberger Pizza Crust Mix - Pizza Dough Mix for Homemade Pizza - Pizza Flour Mix for Pizza Crust Dough In Minutes - Premade Pizza Dough Fresh Ingredients, No Preservatives - 6.5 oz, 12 Pack
EXCELLENT TEXTURE AND FLAVOR: Perfect for New York Style pizza or rolled thin and crispy, Weisenberger's creates a deliciously chewy dough with enough strength to hold your favorite toppings.
HIGH QUALITY INGREDIENTS: Weisenberger mills the flour used to make the pizza crust mix on site, as it has since 1865, to create a high quality and delicious pizza flour.
SIMPLE TO MAKE: With two types of flour, salt, and yeast combined in perfect proportions, Weisenberger Pizza Mix is easy to use: just add ½ cup hot water, let rise, and bake.
CONVENIENT SIZE: One 6.5 oz package makes a mouth-watering 12 inch pizza, or a 14 inch thin crust perfect for homemade pizza night! This listing is for a 12 pack.
MAKE MORE THAN PIZZA: Weisenberger Pizza Crust mix is versatile enough for more than pizza. Create delicious breadsticks, calzones, cinnamon rolls, flatbread, and more!
Norpro Wood Pastry/Pizza Roller 4in/10cm
Measures: 7.25" x 4.5" x 1.25" / 18.5cm x 11.5cm x 3cm. Large roller: 4.125" / 10.5cm. Small roller: 2.5" / 6cm
To help achieve a perfectly cooked crust, it needs to be of a uniform thickness. The Norpro Pastry/Pizza Roller is the perfect 2-in-1 tool for pies, cookies and pizza dough!
The large roller smoothly rolls out dough, creating a uniform crust. Easy to use on your pastry mat/cutting board or directly in the pan!
The small roller makes it easy to fill in dough to the edges, smooths edges and sides, and ensures uniform depth around the inner rim of the pan.
Also ideal to crush nuts, crackers, cookies and bread crumbs!
Meta-U Time-Saver Pizza Dough Roller Docker - Dough Blistering Killer - Buy One Get Three (Pizza Cutter and Pastry Scraper) - Gift Package
BEAT THE HELL OUT OF FORK – So much easier, faster and more fun than using a fork. Also not deep like a fork. Docking is the process of creating small vents in dough to prevent it from blistering and rising in large, uneven pockets during baking. The docker does take the guess work out of docking, however, since you don't need to wonder whether you've added enough holes to your dough or whether it is evenly marked.
TIME-SAVER AND LAST FOR YEARS – A dough docker is one of the stranger looking tools that you might find in your kitchen. Dough dockers are used to knock air out of your dough once it has been rolled. The dough docker will create numerous puncture holes in the dough to ensure there are no air gaps in your pizza base once it is cooked. Taking the 10 seconds to dock your dough prior to baking could save you several minutes later when it comes to popping bubbles throughout the baking process.
NOT ONLY FOR RESTAURANT BUT ALSO FOR HOMEMADE – Generally this commercial pizza dough roller is used in the commercial pizzeria restaurant because of its speed of use. This could also be used for the homemade pizza gourment. This docker is used to easily and quickly allow bakers to dock dough just by rolling over the spiked portion back and forth with firm pressure over dough.
PIZZA, PASTRY, TART, NAAN, PIE, FLATBREAD BUT NOT COOKIES – Pizza dough, Pastry dough, tart dough, naan bread, flat bread and pie crusts are some of the most commonly docked dough because bakers typically want them to bake as evenly as possible (particularly if there are toppings or fillings involved) in the oven. But for cookies it is a little big.
BUY ONE GET THREE – Buy it right now, you will not only receive a dough docker, but also a pizza cutter and a pastry scraper within a beautiful gift package. You can use them all in the whole process of making pizza. Firstly, cut the dough with pastry scraper, and then roll dough docker on the dough. Lastly, cut the pizza with pizza cutter. They are also thoughtful gifts for lovers of baking.
Sale
Augosta Pizza Stone for Oven and Grill, Free Wooden Pizza Peel paddle, Durable and Safe Baking Stone for grill, Thermal Shock Resistant cooking stone, 15 x 12 Inch
Size: The pizza stone measures 15" X 12" X 0.6", Golden thickness(15mm), weighs up to 6.7Lbs. Come with a free pizza peel board(11" X 15.6" x 0.35")
Material: Made of 100% all-natural FDA-safe Cordierite stone, it is no smell and excellent thermal shock resistance. Heat-safe up to 1112°F(600℃). It could distributes heat evenly for optimal cooking, much more efficient than metal
Multipurpose: Besides baking the fresh or frozen pizzas, this pizza stone set can be used for many other culinary explorations. Perfect for bread, cookies, stuffed calzone at home
Clean: Scrape off any excess food with a spatula before clean. When the stone has cooled, run it under warm water while scrubbing with a brush. Never use soap or detergent on a stone, which will leave a soapy aftertaste
After-sales Service: If you receive damaged stone or have any questions about quality and instructions during use, please feel free to contact us