Just a few "clicks" away from Milan, Lake Como, Brescia, or Lake Iseo, lies Bergamo, a charming and unique town with lots of history and food! When you visit Bergamo, you'll realize that the city is split into two parts: Bergamo Alta, which means "high Bergamo", and Bergamo Bassa, or "the low town". What's even lovely about this, is that the two town parts are joined and linked with a historic cable car.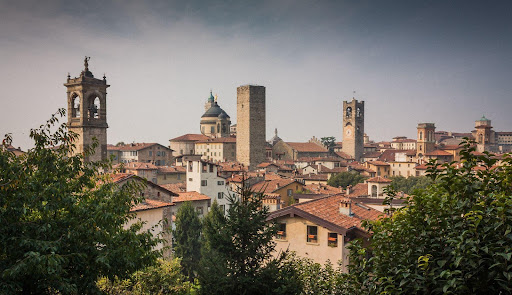 This city is so much connected with food in the minds of people, that there are several awards taking place there, such as the Guild of Fine Foods World Cheese Awards. Furthermore, a little history lesson, stracciatella gelato was invented in Bergamo in 1961. It's no wonder why so many people have included this city in their "must go" list.
Before we dive into this sea of flavors, we should also mention our suggestion of how to go to Bergamo. A vacation to a city is as great as your arrival there. Imaging yourself undergoing all sorts of traveling complications before you arrive at your destination. How will your mood be? Not good we assume. So, if you find yourself flying there, make sure to book a taxi to Bergamo airport with AtoB. You are going to travel in private, comfortably, and safely. You can even ask for adding a baby seat to your Bergamo airport taxi if you have your little loved one(s) with you. A great start for a great journey in Bergamo.
Since we got that covered, it's time to eat in Bergamo!
They say that the city's cuisine and cooking style was created by hard-working peasants. That means local ingredients such as corn, meat, and cheese to create simple dishes. However, you are about to discover that "simple" doesn't mean flat taste. In fact, like many places in Italy, this cuisine is known for its succulent and flavorful dishes that were cooked by poor people. The very invention of pizza was based on opening the pantry of a very poor family, and whatever they could scavenge, it was put on top of dough so they could feed the family members. Amazing, right?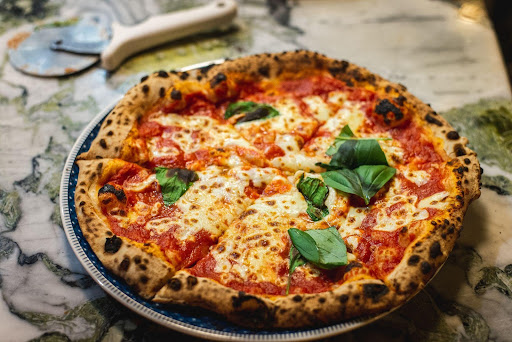 Casoncelli alla Bergamasca – Pasta
To begin with pasta, in Bergamo you can find many different types. The most famous is Casoncelli alla Bergamasca. It reminds of ravioli as it has the shape of a half moon, and it is filled with meat, herbs, and of course, parmesan. They will be usually served with bacon, butter, sage, and again, a little more of parmesan. This is the town's specialty, so brace yourself, you are going to eat a lot!
Strangolapreti – Pasta
You will also find a type of gnocchi (a potato-based dumpling) which in this case, is made with nettle or spinach. We are talking about Strangolapreti or "the priest chokers"! This bizarre name refers to some gluttonous clergymen from the past who would eat so much to a point they would choke. And this says it all. You are going to love this type of pasta.
Cheese
Did you know that in Bergamo there are over 150 mountain pastures? In fact, Bergamo is No.1 in Protected Designation of Origin cheeses. This is why there are cheese awards taking place here. So, having that many unique types of cheese being produced there, means you can create a great deal of different dishes which are either based on cheese or are meant to be served with cheese.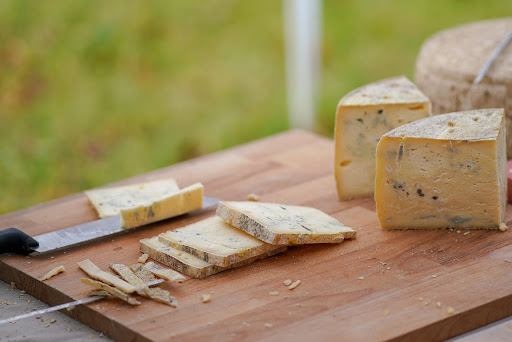 According to their tradition, cheese is meant to be served at the end of the meal. Local people even have a saying "là bóca l'è mai straca se no la sènt de aca", which roughly translates to "it is essential to finish your meal with a flavor of cheese in your mouth". We only hope that you are not lactose intolerant.
Polenta
When we talked about the "simple but not simple" cooking, we had Polenta in mind. It is a centuries-old dish made of corn flour. There are variations regarding the flour but the end results are always delicious. Our personal favorite is with lard to make it creamier, topped with savory cheese. Every ingredient of this meal is local. You are eating Bergamo.
Meat
Bergamo is also known for its sausages and salami. You can find a local sausage here called "loanghina", which is a thin and long sausage, rolled up and pinned with several toothpicks just before grilling. That way it keeps its shape. You'll often eat it with creamy polenta or in a panino. There are many restaurants serving this dish. If you want to find the best ones, ask your driver from AtoB's airport taxi, and they will drive you there. They are all locals, therefore, they will surely choose wisely.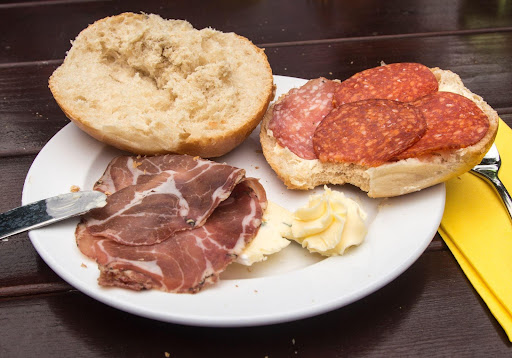 Sweets
You can also try the Polenta e osei, which means "polenta with little birds. Still a traditional creamy polenta dish with the addition of roasted birds, usually quails or thrush birds. Here is the thing though. It is also sweet, especially in Bergamo, made from sponge cake and chocolate that looks like little birds!
Gelato
You might also want to honor the birthplace of stracciatella ice-cream, by trying a stracciatella gelato. This ice-cream flavor was invented here in 1961, and you can order one made from fresh milk and cream and studded with dark Lindt chocolate. Obviously, this is the best stracciatella flavor you will ever taste in your life.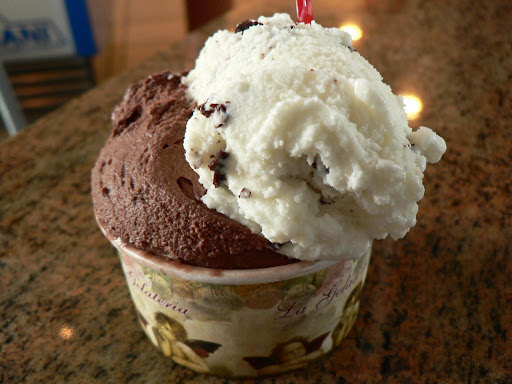 After the meal
Finally, you can end your meal with either wine or espresso coffee (and cheese, of course). There are many local wineries for every taste, all of which are accessible with a private airport taxi from AtoB, therefore, for every different meal you are going to have, ask the best wine to accompany it. Coffee is the inevitable conclusion of your meal since you are in Italy. 
Local Events
Before closing, we would like to mention the Slow Food Event that takes place in Bergamo every autumn, which is a celebration of the locally produced cheeses, by hosting tastings and tours in their production labs. There you will also find cheese experts who will broaden your cheese knowledge, so everytime you eat one, you will have all its characteristics in your mind. So, if you are staying somewhere nearby, book an airport transfer with AtoB to drive you to the event. You can even ask for your personal driver to be back at a specific time to pick you up!
Local Markets
Furthermore, we also suggest visiting Bergamo's markets. To begin with, the Mercato della Terra or Bergamo Earth Market offers a big range of tasty natural products, such as flour, bread, cheese, beer, vegetables, and fruits. You will also find salami and many sausages, so keep your protein intake flowing!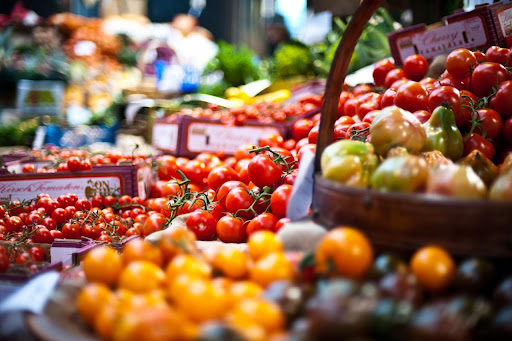 And there you have a comprehensive guide of Bergamo's cuisine. You will definitely enjoy your stay there, and remember, if you want a comfortable way around the city, opt for a personal airport transfer. That way you can visit and eat in as many places as possible. 
---
Pizza Stone Dough Roller Slicer Sauce
We exclusively bring you lists of some gadgets related to food, drinks, beverages for your home, kitchen, picnic, parties and more. Below are highly reviewed Pizza Stone Dough Roller Slicer Sauce on sale from Amazon store. ENJOY 🙂

Pastorelli Pizza Sauce, Original Authentic Italian Pizza Sauce with Extra Virgin Olive Oil and Pecorino Romano Cheese Shredded, Since 1952 Family Pizza Sauce Recipe, 8 Ounce, Pack of 12
AWARD-WINNING PIZZA SAUCE – Enjoy the unbeatable taste of the award-winning Pastorelli Pizza Sauce, awarded 5 grand gold medals in its own category by "being In a Class by itself".
AUTHENTIC ITALIAN RECIPE – An incredibly authentic Italian pizza sauce recipe, Pastorelli's famous Italian Chef Pizza Sauce has been a family recipe and a best-seller since 1952.
JUICY, ZESTY FLAVOR – Made with fresh San Marzano-style tomatoes, plucked off the vine at their juicy, ripened peak for a fresh pizza sauce taste, our premium pizza sauce has a homemade zesty flavor.
WITH CHEESE AND OLIVE OIL – Enhanced by imported Pecorino Romano cheese and extra-virgin olive oil, our pizza sauce with cheese is versatile to be used also as a pizza pasta sauce.
A FAMILY RECIPE SINCE 1952 – This 8 oz pizza sauce can will make one 16″ inch pizza or two 12″ pizzas. Non-GMO | No Added Sugars | Gluten Free | BPA Free | Preservative Free.
Sale
Kitchy Pizza Cutter Wheel with Protective Blade Cover, Ergonomic Pizza Slicer (Green)
NO EFFORT PIZZA CUTTER – Stable vertical pressure and large cutting wheel for easy and perfectly controlled cutting process.
GET THE PERFECT SLICE IN ONE CUT – This pizza cutter will leave you shocked with how easy it is to get a nice, clean cut through your pizza.
COMFORTABLY FITS IN THE PALM OF YOUR HAND - This pizza slicer's unique design easily fits in your hand and also in your cutlery drawer.
PROTECTIVE BLADE GUARD FOR EASY STORAGE – This pizza cutter wheel comes with a blade guard to keep your cutter securely stored away when you're not using it.
DISASSEMBLES FOR THOROUGH CLEANING AND DISHWASHER SAFE – Take it apart in 3 simple steps and put it in the dishwasher for thorough cleaning.
Weisenberger Pizza Crust Mix - Pizza Dough Mix for Homemade Pizza - Pizza Flour Mix for Pizza Crust Dough In Minutes - Premade Pizza Dough Fresh Ingredients, No Preservatives - 6.5 oz, 12 Pack
EXCELLENT TEXTURE AND FLAVOR: Perfect for New York Style pizza or rolled thin and crispy, Weisenberger's creates a deliciously chewy dough with enough strength to hold your favorite toppings.
HIGH QUALITY INGREDIENTS: Weisenberger mills the flour used to make the pizza crust mix on site, as it has since 1865, to create a high quality and delicious pizza flour.
SIMPLE TO MAKE: With two types of flour, salt, and yeast combined in perfect proportions, Weisenberger Pizza Mix is easy to use: just add ½ cup hot water, let rise, and bake.
CONVENIENT SIZE: One 6.5 oz package makes a mouth-watering 12 inch pizza, or a 14 inch thin crust perfect for homemade pizza night! This listing is for a 12 pack.
MAKE MORE THAN PIZZA: Weisenberger Pizza Crust mix is versatile enough for more than pizza. Create delicious breadsticks, calzones, cinnamon rolls, flatbread, and more!
Norpro Wood Pastry/Pizza Roller 4in/10cm
Measures: 7.25" x 4.5" x 1.25" / 18.5cm x 11.5cm x 3cm. Large roller: 4.125" / 10.5cm. Small roller: 2.5" / 6cm
To help achieve a perfectly cooked crust, it needs to be of a uniform thickness. The Norpro Pastry/Pizza Roller is the perfect 2-in-1 tool for pies, cookies and pizza dough!
The large roller smoothly rolls out dough, creating a uniform crust. Easy to use on your pastry mat/cutting board or directly in the pan!
The small roller makes it easy to fill in dough to the edges, smooths edges and sides, and ensures uniform depth around the inner rim of the pan.
Also ideal to crush nuts, crackers, cookies and bread crumbs!
Meta-U Time-Saver Pizza Dough Roller Docker - Dough Blistering Killer - Buy One Get Three (Pizza Cutter and Pastry Scraper) - Gift Package
BEAT THE HELL OUT OF FORK – So much easier, faster and more fun than using a fork. Also not deep like a fork. Docking is the process of creating small vents in dough to prevent it from blistering and rising in large, uneven pockets during baking. The docker does take the guess work out of docking, however, since you don't need to wonder whether you've added enough holes to your dough or whether it is evenly marked.
TIME-SAVER AND LAST FOR YEARS – A dough docker is one of the stranger looking tools that you might find in your kitchen. Dough dockers are used to knock air out of your dough once it has been rolled. The dough docker will create numerous puncture holes in the dough to ensure there are no air gaps in your pizza base once it is cooked. Taking the 10 seconds to dock your dough prior to baking could save you several minutes later when it comes to popping bubbles throughout the baking process.
NOT ONLY FOR RESTAURANT BUT ALSO FOR HOMEMADE – Generally this commercial pizza dough roller is used in the commercial pizzeria restaurant because of its speed of use. This could also be used for the homemade pizza gourment. This docker is used to easily and quickly allow bakers to dock dough just by rolling over the spiked portion back and forth with firm pressure over dough.
PIZZA, PASTRY, TART, NAAN, PIE, FLATBREAD BUT NOT COOKIES – Pizza dough, Pastry dough, tart dough, naan bread, flat bread and pie crusts are some of the most commonly docked dough because bakers typically want them to bake as evenly as possible (particularly if there are toppings or fillings involved) in the oven. But for cookies it is a little big.
BUY ONE GET THREE – Buy it right now, you will not only receive a dough docker, but also a pizza cutter and a pastry scraper within a beautiful gift package. You can use them all in the whole process of making pizza. Firstly, cut the dough with pastry scraper, and then roll dough docker on the dough. Lastly, cut the pizza with pizza cutter. They are also thoughtful gifts for lovers of baking.
Sale
Augosta Pizza Stone for Oven and Grill, Free Wooden Pizza Peel paddle, Durable and Safe Baking Stone for grill, Thermal Shock Resistant cooking stone, 15 x 12 Inch
Size: The pizza stone measures 15" X 12" X 0.6", Golden thickness(15mm), weighs up to 6.7Lbs. Come with a free pizza peel board(11" X 15.6" x 0.35")
Material: Made of 100% all-natural FDA-safe Cordierite stone, it is no smell and excellent thermal shock resistance. Heat-safe up to 1112°F(600℃). It could distributes heat evenly for optimal cooking, much more efficient than metal
Multipurpose: Besides baking the fresh or frozen pizzas, this pizza stone set can be used for many other culinary explorations. Perfect for bread, cookies, stuffed calzone at home
Clean: Scrape off any excess food with a spatula before clean. When the stone has cooled, run it under warm water while scrubbing with a brush. Never use soap or detergent on a stone, which will leave a soapy aftertaste
After-sales Service: If you receive damaged stone or have any questions about quality and instructions during use, please feel free to contact us