A buffet is a self-service form of dining in which the customers pay a fixed price and are entitled to select as much food as they wish. The cooks prepare food in bulk, and the staff refill the food as necessary.
This type of food setting has become popular for various events like weddings, birthdays, christenings, and funerals. They offer convenience as guests can select their preferred dishes from diverse options.
Buffets eliminate the need for serving staff, making event planning simpler and more cost-effective. Rather than dealing with pre-ordering and potential forgetfulness, buffets cater to diverse preferences, making them especially practical for large gatherings.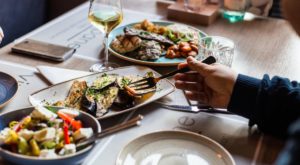 Importance of Food Safety & Hygiene
Food safety and hygiene prevent infections and diseases by safely handling, storing, and preparing food. It prevents contamination and germs from multiplying in foods and reaching dangerous levels.
Ensuring the quality and safety of food for human consumption is an integral part of the food preparation process. It needs to be considered at every point – from farm to fork.
Below mentioned are some of the key points highlighting the significance of food safety:
Consuming contaminated food can cause food poisoning due to the viruses, bacteria and germs found in it.

Food safety plays a vital role in preventing germs from growing and reaching dangerous and alert levels.

It ensures the consumers' health and saves them from paying for medical check-ups and medication.

Personal hygiene is also essential, as 33% of food poisoning cases are due to improper hand washing. Proper hand washing can significantly reduce the number of food poisoning cases.
Food Safety Risks in Buffets
Buffets carry inherent risks due to the abundance and variety of food offerings, often left at room temperature for extended periods. The self-service nature of buffet dining also introduces the potential for varying levels of personal hygiene among diners. 
Failure to maintain a sanitary environment during these stages can lead to bacterial growth, resulting in potential illnesses.
Typical bacteria that may contaminate buffet food or serving areas include:
E. coli (potentially found in lettuce or soft cheese)

Salmonella (commonly present in undercooked chicken or eggs)

Listeria thrives in pre-packaged foods like sandwiches or bagged salads and is prevalent in deli meats.
Tips to Maintain Food Safety and Hygiene at Buffets
Regarding buffets, maintaining food safety and hygiene is very important. Whether organising a buffet for an event or overseeing a commercial buffet setup, employing proper food safety practices is essential. This guide will give valuable tips and guidelines to ensure the utmost cleanliness and safety throughout the buffet.
1. Always Remember The 4 C's
The Food Standards Agency highly recommends implementing the 4 Cs to ensure good food hygiene. The 4 C's include cleaning, cooking, chilling, and cross-contamination.
Cleaning
Every piece of equipment involved in the handling, storing, or preparing of food, from a fork to a fridge, is considered food equipment and needs cleaning.
Following are some considerations for cleaning:
Clean and disinfect the food area where you prepare or serve food.

Wash all equipment correctly and dry it.

Plan a regular cleaning routine to ensure nothing gets missed and everything is cleaned systematically.

Ensure your cleanliness too. If you don't clean yourself properly, you might be spreading infections too.
Cross-contamination
To prevent cross-contamination, paying attention to the cleanliness of individuals, surfaces, and utensils and proper food storage and waste disposal is vital. This step is vital for keeping the food contamination-free, thereby preventing bacterial growth and ensuring the safety of people with food allergies. You can also provide your staff with food allergen training to teach them ways to prevent cross-contamination.
To further decrease the risk of cross-contamination, use separate cutting boards and utensils for raw and ready-to-eat dishes. Between uses, carefully clean all utensils.
Keep the meal covered until ready to serve to ensure cleanliness.

To avoid cross-contamination, use a different serving utensil for each dish.

Line the bins, have lids, and clean them regularly to manage waste properly. Furthermore, fill the bins sparingly.
Chilling
Some foods are temperature-sensitive and can grow bacteria at room temperature. Therefore, it is mandatory to maintain a particular optimal temperature condition for such types of food.
You must take necessary measures in case of bringing food to an event. While transporting the food for a short time, use insulated boxes with ice or cold packs; otherwise, if transporting for a more extended period, make sure to use refrigerator units.

Food items like meat and dairy should be kept inside the fridge for up to two hours. 

If you need to figure out how long the food could be kept outside, serve in tiny pieces and top up as required.
Cooking
Buffets usually have a variety of hot and cold foods. You need to cook and reheat foods thoroughly, keeping the recommended temperature guidelines in mind.
Use food thermometers to ensure that meat is cooked the whole way through. Never serve meat items if they're pink from the inside.

If you are reheating food, it should be reheated to a minimum of 75°C. It needs proper cooking to kill the bacteria that may have grown since it was first cooked.

Keeping the food warm, such as in a chafing dish, will alter when it can stay at room temperature.

Rice should be served within one hour. You can store cooked rice items for up to one day in the refrigerator but do not reheat them more than once.

Keep cooked food at 63°C. If you're leaving it at room temperature, do not leave it there for more than two hours.

Discard the food that has yet to be consumed within two hours.
2. Ensure Proper Uniformity 
Ensuring staff members have proper uniforms is critical to maintaining a hygienic environment. Here are some key points to consider regarding the importance of staff having proper uniforms:
All the staff must have proper and clean uniforms.

The staff members must cover their hair with a hair net.

Cover your hands adequately with disposable gloves. Change the gloves after handling different types of food, touching contaminated stuff, coughing or sneezing, or after 2 hours of use.

If any staff member gets injured, take care of it immediately to avoid contaminating the food or area.
3. Maintain Good Personal hygiene.
Proper personal hygiene practices among food handlers significantly reduce the risk of contamination and bacterial transmission during food preparation and service.
Wash your hands regularly with soap and water for at least 20 seconds.

Use hand sanitisers when soap and water are not available.

Maintain clean and trimmed fingernails.

Keep your hair tied back or in a neat hairstyle to prevent it from falling into food or touching surfaces.

Wear clean and properly fitted uniforms daily.

Use disposable gloves when handling ready-to-eat food.

Avoid touching the face, hair, or exposed skin while handling food.

Take regular showers and use deodorant to maintain freshness.

Cover any wounds or cuts with waterproof dressings to prevent contamination.

Follow proper coughing and sneezing etiquette by using tissues or elbows to cover the mouth and nose.

Regularly clean and sanitise personal items like phones and keys to minimise the spread of germs.

Avoid wearing excessive jewellery and perfume, as they can be a potential source of contamination or allergic reactions.
Learn How to Manage Food Safety Hazards through Training Courses.
The best way to manage food safety hazards is by getting food safety training. You and those involved in food handling should take training courses, as they serve as invaluable resources to promote safe and hygienic practices within the food industry.
Food safety training will equip you and your staff with comprehensive knowledge about proper food handling, preparation, storage, and minimising contamination risks.
You should also get food allergen training to prevent cross-contamination and ensure the safety of customers with food allergies. It will create awareness about food allergies and teach preventive measures that will help elevate the food standard and the guests' well-being.
Conclusion
Food safety and hygiene in buffets and food service settings are vital for the well-being of consumers and the reputation of establishments. Following the practises discussed in this blog can significantly reduce the risk of foodborne illnesses and allergen-related incidents, providing a delightful and safe buffet experience for all.
---
Pizza Stone Dough Roller Slicer Sauce
We exclusively bring you lists of some gadgets related to food, drinks, beverages for your home, kitchen, picnic, parties and more. Below are highly reviewed Pizza Stone Dough Roller Slicer Sauce on sale from Amazon store. ENJOY 🙂

Pastorelli Pizza Sauce, Original Authentic Italian Pizza Sauce with Extra Virgin Olive Oil and Pecorino Romano Cheese Shredded, Since 1952 Family Pizza Sauce Recipe, 8 Ounce, Pack of 12
AWARD-WINNING PIZZA SAUCE – Enjoy the unbeatable taste of the award-winning Pastorelli Pizza Sauce, awarded 5 grand gold medals in its own category by "being In a Class by itself".
AUTHENTIC ITALIAN RECIPE – An incredibly authentic Italian pizza sauce recipe, Pastorelli's famous Italian Chef Pizza Sauce has been a family recipe and a best-seller since 1952.
JUICY, ZESTY FLAVOR – Made with fresh San Marzano-style tomatoes, plucked off the vine at their juicy, ripened peak for a fresh pizza sauce taste, our premium pizza sauce has a homemade zesty flavor.
WITH CHEESE AND OLIVE OIL – Enhanced by imported Pecorino Romano cheese and extra-virgin olive oil, our pizza sauce with cheese is versatile to be used also as a pizza pasta sauce.
A FAMILY RECIPE SINCE 1952 – This 8 oz pizza sauce can will make one 16″ inch pizza or two 12″ pizzas. Non-GMO | No Added Sugars | Gluten Free | BPA Free | Preservative Free.
Sale
Kitchy Pizza Cutter Wheel with Protective Blade Cover, Ergonomic Pizza Slicer (Green)
NO EFFORT PIZZA CUTTER – Stable vertical pressure and large cutting wheel for easy and perfectly controlled cutting process.
GET THE PERFECT SLICE IN ONE CUT – This pizza cutter will leave you shocked with how easy it is to get a nice, clean cut through your pizza.
COMFORTABLY FITS IN THE PALM OF YOUR HAND - This pizza slicer's unique design easily fits in your hand and also in your cutlery drawer.
PROTECTIVE BLADE GUARD FOR EASY STORAGE – This pizza cutter wheel comes with a blade guard to keep your cutter securely stored away when you're not using it.
DISASSEMBLES FOR THOROUGH CLEANING AND DISHWASHER SAFE – Take it apart in 3 simple steps and put it in the dishwasher for thorough cleaning.
Weisenberger Pizza Crust Mix - Pizza Dough Mix for Homemade Pizza - Pizza Flour Mix for Pizza Crust Dough In Minutes - Premade Pizza Dough Fresh Ingredients, No Preservatives - 6.5 oz, 12 Pack
EXCELLENT TEXTURE AND FLAVOR: Perfect for New York Style pizza or rolled thin and crispy, Weisenberger's creates a deliciously chewy dough with enough strength to hold your favorite toppings.
HIGH QUALITY INGREDIENTS: Weisenberger mills the flour used to make the pizza crust mix on site, as it has since 1865, to create a high quality and delicious pizza flour.
SIMPLE TO MAKE: With two types of flour, salt, and yeast combined in perfect proportions, Weisenberger Pizza Mix is easy to use: just add ½ cup hot water, let rise, and bake.
CONVENIENT SIZE: One 6.5 oz package makes a mouth-watering 12 inch pizza, or a 14 inch thin crust perfect for homemade pizza night! This listing is for a 12 pack.
MAKE MORE THAN PIZZA: Weisenberger Pizza Crust mix is versatile enough for more than pizza. Create delicious breadsticks, calzones, cinnamon rolls, flatbread, and more!
Norpro Wood Pastry/Pizza Roller 4in/10cm
Measures: 7.25" x 4.5" x 1.25" / 18.5cm x 11.5cm x 3cm. Large roller: 4.125" / 10.5cm. Small roller: 2.5" / 6cm
To help achieve a perfectly cooked crust, it needs to be of a uniform thickness. The Norpro Pastry/Pizza Roller is the perfect 2-in-1 tool for pies, cookies and pizza dough!
The large roller smoothly rolls out dough, creating a uniform crust. Easy to use on your pastry mat/cutting board or directly in the pan!
The small roller makes it easy to fill in dough to the edges, smooths edges and sides, and ensures uniform depth around the inner rim of the pan.
Also ideal to crush nuts, crackers, cookies and bread crumbs!
Meta-U Time-Saver Pizza Dough Roller Docker - Dough Blistering Killer - Buy One Get Three (Pizza Cutter and Pastry Scraper) - Gift Package
BEAT THE HELL OUT OF FORK – So much easier, faster and more fun than using a fork. Also not deep like a fork. Docking is the process of creating small vents in dough to prevent it from blistering and rising in large, uneven pockets during baking. The docker does take the guess work out of docking, however, since you don't need to wonder whether you've added enough holes to your dough or whether it is evenly marked.
TIME-SAVER AND LAST FOR YEARS – A dough docker is one of the stranger looking tools that you might find in your kitchen. Dough dockers are used to knock air out of your dough once it has been rolled. The dough docker will create numerous puncture holes in the dough to ensure there are no air gaps in your pizza base once it is cooked. Taking the 10 seconds to dock your dough prior to baking could save you several minutes later when it comes to popping bubbles throughout the baking process.
NOT ONLY FOR RESTAURANT BUT ALSO FOR HOMEMADE – Generally this commercial pizza dough roller is used in the commercial pizzeria restaurant because of its speed of use. This could also be used for the homemade pizza gourment. This docker is used to easily and quickly allow bakers to dock dough just by rolling over the spiked portion back and forth with firm pressure over dough.
PIZZA, PASTRY, TART, NAAN, PIE, FLATBREAD BUT NOT COOKIES – Pizza dough, Pastry dough, tart dough, naan bread, flat bread and pie crusts are some of the most commonly docked dough because bakers typically want them to bake as evenly as possible (particularly if there are toppings or fillings involved) in the oven. But for cookies it is a little big.
BUY ONE GET THREE – Buy it right now, you will not only receive a dough docker, but also a pizza cutter and a pastry scraper within a beautiful gift package. You can use them all in the whole process of making pizza. Firstly, cut the dough with pastry scraper, and then roll dough docker on the dough. Lastly, cut the pizza with pizza cutter. They are also thoughtful gifts for lovers of baking.
Sale
Augosta Pizza Stone for Oven and Grill, Free Wooden Pizza Peel paddle, Durable and Safe Baking Stone for grill, Thermal Shock Resistant cooking stone, 15 x 12 Inch
Size: The pizza stone measures 15" X 12" X 0.6", Golden thickness(15mm), weighs up to 6.7Lbs. Come with a free pizza peel board(11" X 15.6" x 0.35")
Material: Made of 100% all-natural FDA-safe Cordierite stone, it is no smell and excellent thermal shock resistance. Heat-safe up to 1112°F(600℃). It could distributes heat evenly for optimal cooking, much more efficient than metal
Multipurpose: Besides baking the fresh or frozen pizzas, this pizza stone set can be used for many other culinary explorations. Perfect for bread, cookies, stuffed calzone at home
Clean: Scrape off any excess food with a spatula before clean. When the stone has cooled, run it under warm water while scrubbing with a brush. Never use soap or detergent on a stone, which will leave a soapy aftertaste
After-sales Service: If you receive damaged stone or have any questions about quality and instructions during use, please feel free to contact us