Barbecuing is a beloved American tradition that brings people together through delicious food and fun outdoor activities. The smell of smoked meats and sweet barbecue sauce wafting through the air is enough to get anyone excited for a cookout.
Barbecuing has a long and storied history in the United States, with regional barbecue styles developing nationwide. In the South, slow-smoked pulled pork and beef brisket reign supreme. A thick, sweet tomato-based barbecue sauce is the star in Kansas City. And in Texas, beef is king when it comes to barbecue. No matter your regional barbecue allegiance, hosting a cookout complete with irresistible grilled foods is the perfect way to enjoy the warm weather and bring friends and family together.
Let's discuss 10 mouthwatering barbecue recipes to make your next cookout a hit. From juicy burgers to fall-off-the-bone ribs, these recipes will please any barbecue aficionado. So fire up the grill and get ready for a great barbecue bash!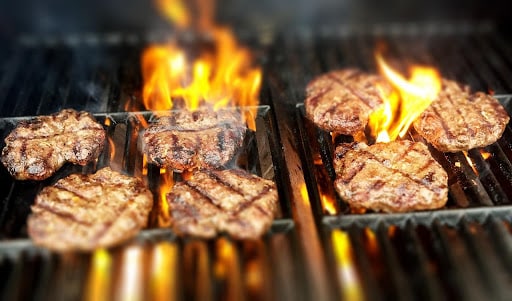 1. Juicy Bacon Cheeseburgers
No cookout is complete without a proper burger, and this bacon cheeseburger recipe delivers. Ground chuck is blended with Worcestershire sauce and seasoned with salt, pepper, and garlic powder before being formed into patties. The patties are then grilled to juicy perfection. Topped with melty cheddar cheese and crispy bacon, these burgers are sure to satisfy. 
Serve the cheeseburgers on soft buns with all your favorite condiments like ketchup, mustard, lettuce, and tomato for a truly classic barbecue burger.
2. BBQ Beef Sandwiches
For tender, fall-apart barbecue beef, the instant pot is your friend. This recipe cooks beef chuck roast in the instant pot until meltingly tender before shredding and tossing it with your favorite barbecue sauce. 
Piled high on buns and topped with pickles and onions, these instant pot bbq beef sandwiches are sure to be a hit. The instant pot helps break down the collagen in the beef, leaving you with mouthwateringly tender meat that soaks up the sweet and tangy barbecue sauce. It's an easy weeknight meal or cookout crowd-pleaser.
3. Grilled Chicken Skewers
Chicken skewers are a cookout staple for a good reason – kids and adults alike love these quick and easy grilled bites. 
Marinated in a zesty combination of olive oil, lemon juice, garlic, and herbs before hitting the grill, the chicken stays juicy and flavorful. You can also alternate pieces of tender chicken with colorful bell peppers and onions for a visually appealing skewer. Offer a dipping sauce like tzatziki or barbecue sauce for even more flavor.
4. BBQ Chicken Drumsticks
Chicken drumsticks are a barbecue classic, and this recipe coats them in an irresistible homemade barbecue sauce. The sauce contains tomato paste, brown sugar, Worcestershire sauce, vinegar, and spices for finger-licking flavor. After marinating the drumsticks in the sauce to infuse them with flavor, they are grilled until the skin is crispy and the meat is fully cooked. Add the charred bits from the grill to give it more depth. Serve the saucy drumsticks hot off the grill alongside creamy coleslaw and potato salad.
5. Grilled Corn with Spicy Mayo
Grilled corn on the cob is a beloved summer treat, and the addition of a spicy mayo makes it even better. Simply coat shucked corn with olive oil and grill until lightly charred all over. While the corn is hot, slather it with a mixture of mayo, lime juice, cayenne pepper, and cilantro. The cool and creamy mayo perfectly complements the smoky grilled corn, while the lime and cayenne add zing. This easy side is the perfect accompaniment to any barbecue meal.
6. Caprese Skewers
Add a refreshing bite to your cookout with these colorful caprese skewers. Cherry tomatoes, mozzarella balls, and basil leaves are threaded onto skewers and drizzled with olive oil, balsamic vinegar, and seasonings. Grill the skewers briefly just to lightly char and soften the mozzarella and tomatoes. The classic Italian flavors pair perfectly with your grilled meats or even stand alone as a light appetizer.
7. Grilled Vegetable Platter
A grilled veggie platter is a healthy and delicious addition to any cookout. Try an array of vegetables like zucchini, eggplant, bell peppers, mushrooms, and asparagus brushed with olive oil and grilled until tender. 
Offer a dipping sauce like hummus, ranch dressing, or balsamic vinaigrette to complement the smoky grilled vegetables. This vegetable platter makes a great meatless main or side dish.
8. Barbecue Baked Beans
No barbecue is complete without a dish of baked beans, and this recipe is sure to please. Cook the kidney beans until tender in a sweet, smoky sauce made with ketchup, brown sugar, mustard, Worcestershire sauce, and chopped bacon. The beans soak up all the delicious flavors and complement your grilled meats perfectly. Sweet, saucy, and smokey, these baked beans are a cookout essential.
9. Grilled Peach Sundaes
For a fun and delicious dessert, grill peaches and serve them over vanilla ice cream for an amazing grilled peach sundae. 
Simply cut peaches in half and grill cut-side down until they have nice grill marks. Top scoops of ice cream with the grilled peaches, drizzle with honey or caramel sauce, and sprinkle with chopped nuts. The sweet juicy peaches perfectly pair with the cold, creamy ice cream. This dessert is sure to steal the show.
10. Watermelon Feta Salad
Cool, refreshing watermelon makes a great cookout side dish when paired with salty feta cheese and mint. Toss the cubed watermelon with crumbled feta, torn fresh mint leaves, a squeeze of lime juice, and a drizzle of olive oil. The sweet juicy watermelon balances beautifully with the briny feta and vibrant mint. It's a light, healthy salad that goes well with any barbecue menu.
Conclusion
Great barbecue food is at the heart of every memorable summer cookout. With these crowd-pleasing recipes, you're guaranteed to host a fantastic barbecue bash. From juicy burgers hot off the grill to sweet and smoky baked beans, there's something for everyone. Gather your family and friends, fire up the barbecue, and prepare for a great cookout with these sensational recipes. The mouthwatering aromas and flavors of backyard barbecue will have everyone looking forward to your next event.
---
Pizza Stone Dough Roller Slicer Sauce
We exclusively bring you lists of some gadgets related to food, drinks, beverages for your home, kitchen, picnic, parties and more. Below are highly reviewed Pizza Stone Dough Roller Slicer Sauce on sale from Amazon store. ENJOY 🙂

Pastorelli Pizza Sauce, Original Authentic Italian Pizza Sauce with Extra Virgin Olive Oil and Pecorino Romano Cheese Shredded, Since 1952 Family Pizza Sauce Recipe, 8 Ounce, Pack of 12
AWARD-WINNING PIZZA SAUCE – Enjoy the unbeatable taste of the award-winning Pastorelli Pizza Sauce, awarded 5 grand gold medals in its own category by "being In a Class by itself".
AUTHENTIC ITALIAN RECIPE – An incredibly authentic Italian pizza sauce recipe, Pastorelli's famous Italian Chef Pizza Sauce has been a family recipe and a best-seller since 1952.
JUICY, ZESTY FLAVOR – Made with fresh San Marzano-style tomatoes, plucked off the vine at their juicy, ripened peak for a fresh pizza sauce taste, our premium pizza sauce has a homemade zesty flavor.
WITH CHEESE AND OLIVE OIL – Enhanced by imported Pecorino Romano cheese and extra-virgin olive oil, our pizza sauce with cheese is versatile to be used also as a pizza pasta sauce.
A FAMILY RECIPE SINCE 1952 – This 8 oz pizza sauce can will make one 16″ inch pizza or two 12″ pizzas. Non-GMO | No Added Sugars | Gluten Free | BPA Free | Preservative Free.
Sale
Kitchy Pizza Cutter Wheel with Protective Blade Cover, Ergonomic Pizza Slicer (Green)
NO EFFORT PIZZA CUTTER – Stable vertical pressure and large cutting wheel for easy and perfectly controlled cutting process.
GET THE PERFECT SLICE IN ONE CUT – This pizza cutter will leave you shocked with how easy it is to get a nice, clean cut through your pizza.
COMFORTABLY FITS IN THE PALM OF YOUR HAND - This pizza slicer's unique design easily fits in your hand and also in your cutlery drawer.
PROTECTIVE BLADE GUARD FOR EASY STORAGE – This pizza cutter wheel comes with a blade guard to keep your cutter securely stored away when you're not using it.
DISASSEMBLES FOR THOROUGH CLEANING AND DISHWASHER SAFE – Take it apart in 3 simple steps and put it in the dishwasher for thorough cleaning.
Weisenberger Pizza Crust Mix - Pizza Dough Mix for Homemade Pizza - Pizza Flour Mix for Pizza Crust Dough In Minutes - Premade Pizza Dough Fresh Ingredients, No Preservatives - 6.5 oz, 12 Pack
EXCELLENT TEXTURE AND FLAVOR: Perfect for New York Style pizza or rolled thin and crispy, Weisenberger's creates a deliciously chewy dough with enough strength to hold your favorite toppings.
HIGH QUALITY INGREDIENTS: Weisenberger mills the flour used to make the pizza crust mix on site, as it has since 1865, to create a high quality and delicious pizza flour.
SIMPLE TO MAKE: With two types of flour, salt, and yeast combined in perfect proportions, Weisenberger Pizza Mix is easy to use: just add ½ cup hot water, let rise, and bake.
CONVENIENT SIZE: One 6.5 oz package makes a mouth-watering 12 inch pizza, or a 14 inch thin crust perfect for homemade pizza night! This listing is for a 12 pack.
MAKE MORE THAN PIZZA: Weisenberger Pizza Crust mix is versatile enough for more than pizza. Create delicious breadsticks, calzones, cinnamon rolls, flatbread, and more!
Norpro Wood Pastry/Pizza Roller 4in/10cm
Measures: 7.25" x 4.5" x 1.25" / 18.5cm x 11.5cm x 3cm. Large roller: 4.125" / 10.5cm. Small roller: 2.5" / 6cm
To help achieve a perfectly cooked crust, it needs to be of a uniform thickness. The Norpro Pastry/Pizza Roller is the perfect 2-in-1 tool for pies, cookies and pizza dough!
The large roller smoothly rolls out dough, creating a uniform crust. Easy to use on your pastry mat/cutting board or directly in the pan!
The small roller makes it easy to fill in dough to the edges, smooths edges and sides, and ensures uniform depth around the inner rim of the pan.
Also ideal to crush nuts, crackers, cookies and bread crumbs!
Meta-U Time-Saver Pizza Dough Roller Docker - Dough Blistering Killer - Buy One Get Three (Pizza Cutter and Pastry Scraper) - Gift Package
BEAT THE HELL OUT OF FORK – So much easier, faster and more fun than using a fork. Also not deep like a fork. Docking is the process of creating small vents in dough to prevent it from blistering and rising in large, uneven pockets during baking. The docker does take the guess work out of docking, however, since you don't need to wonder whether you've added enough holes to your dough or whether it is evenly marked.
TIME-SAVER AND LAST FOR YEARS – A dough docker is one of the stranger looking tools that you might find in your kitchen. Dough dockers are used to knock air out of your dough once it has been rolled. The dough docker will create numerous puncture holes in the dough to ensure there are no air gaps in your pizza base once it is cooked. Taking the 10 seconds to dock your dough prior to baking could save you several minutes later when it comes to popping bubbles throughout the baking process.
NOT ONLY FOR RESTAURANT BUT ALSO FOR HOMEMADE – Generally this commercial pizza dough roller is used in the commercial pizzeria restaurant because of its speed of use. This could also be used for the homemade pizza gourment. This docker is used to easily and quickly allow bakers to dock dough just by rolling over the spiked portion back and forth with firm pressure over dough.
PIZZA, PASTRY, TART, NAAN, PIE, FLATBREAD BUT NOT COOKIES – Pizza dough, Pastry dough, tart dough, naan bread, flat bread and pie crusts are some of the most commonly docked dough because bakers typically want them to bake as evenly as possible (particularly if there are toppings or fillings involved) in the oven. But for cookies it is a little big.
BUY ONE GET THREE – Buy it right now, you will not only receive a dough docker, but also a pizza cutter and a pastry scraper within a beautiful gift package. You can use them all in the whole process of making pizza. Firstly, cut the dough with pastry scraper, and then roll dough docker on the dough. Lastly, cut the pizza with pizza cutter. They are also thoughtful gifts for lovers of baking.
Sale
Augosta Pizza Stone for Oven and Grill, Free Wooden Pizza Peel paddle, Durable and Safe Baking Stone for grill, Thermal Shock Resistant cooking stone, 15 x 12 Inch
Size: The pizza stone measures 15" X 12" X 0.6", Golden thickness(15mm), weighs up to 6.7Lbs. Come with a free pizza peel board(11" X 15.6" x 0.35")
Material: Made of 100% all-natural FDA-safe Cordierite stone, it is no smell and excellent thermal shock resistance. Heat-safe up to 1112°F(600℃). It could distributes heat evenly for optimal cooking, much more efficient than metal
Multipurpose: Besides baking the fresh or frozen pizzas, this pizza stone set can be used for many other culinary explorations. Perfect for bread, cookies, stuffed calzone at home
Clean: Scrape off any excess food with a spatula before clean. When the stone has cooled, run it under warm water while scrubbing with a brush. Never use soap or detergent on a stone, which will leave a soapy aftertaste
After-sales Service: If you receive damaged stone or have any questions about quality and instructions during use, please feel free to contact us